Love unicorn or know a unicorn lover? A perfect gift would be one of these cute crochet amigurumi unicorn patterns made by you. You could one as a new baby gift or for an older girl.
Crochet unicorns are fun to make. They are available in all kinds of bright and colorful colors crochet amigurumi unicorn patterns to try. You could also leave off the horn make a horse.
There are lots of different crochet unicorn patterns to choose from. Read the reviews and get ready to start your next stuffed unicorn toy project. Any would be great for a little one to cuddle with.
Need some tips on amigurumi? Check out these links.
There are affiliate links in this post. I will receive a small commission if you purchase through these links at no additional cost to you.
Crochet Amigurumi Unicorn Patterns
5 out of 5 – This pattern is so easy to follow, I had so much fun to make Unicorns for my granddaughter!!She absolutely loved it!! Thank you so much for this pattern!! Happy crocheting Crochet pattern.
5 out of 5 – This is the most professional, most beautiful well made pattern I've bought on etsy. Amazing work and so much detail in it, great for an almost-beginner like me. Beautiful, I'd advise you to buy from this seller! Crochet Unicorn pattern.
Such a beautifully written and easy to understand pattern! I modified mine but she turned out perfect! Thank you for sharing
5 out of 5 – I had about 24 hours to make this for my granddaughter's birthday! I succeeded — and she loved it! What a wonderful gift for a little girl. The directions were easy to follow — once I realized that a British pattern says dc when it MEANS a US sc! That one threw me for a minute. Crochet pattern.
5 out of 5 – Fantastic pattern !!!!! Super easy and great pictures. I can wait to finish and gift this little guy to a happy friend. Each step is explained and modeled with pictures. Amazing quality for an amazing price!!!! Crochet Unicorn pattern.
5 out of 5 – Great Pattern! The pattern is well written with lots of pictures to help explain. It was easy to follow and would be great for anyone that likes a quick pattern to make!
This designer has lots of other cute animal crochet patterns for you to try.
5 out of 5 – This pattern was very detailed and easy to use. Love how these turned out
Love this pattern.. this was fun to make. I just did the curls different.
5 out of 5 – This pattern was well written, easy to follow, and a pleasure to crochet.
5 out of 5 – very pretty unicorn, very well explained pattern……. Thank you
5 out of 5 – I am absolutely in love with your patterns. Started my collection just now and will buy all available. Thanks for excellent work ?
5 out of 5 –Great pattern! Very well written out with lots of good tips. I'll definitely be making more of these.
Make a sleeping unicorn.
5 out of 5 – I love this. The pattern was easy to follow. I didn't do the closed eyes but it still looks exactly how I wanted it to look. My niece was definitely happy with the end product
It was quite challenging but the instructions were clear and well explained. I loved making my first unicorn which turned out very sweet. Mine is a little bigger because I made it with thicker yarn. Thank you for this awesome pattern
Beautiful unicorn! Thank you for this amazing pattern, my unicorn turned out great and I am a beginner in crochet.
This crochet designer has lots other adorable plushie crocheting patterns for you to try.
My granddaughter loves her Unicom. The pattern was easy to follow and it worked beautifully.
Great guide, great result! I cheated a bit and only changed the colors of the tail after every 3rd round because I didn't feel like changing after every 2nd round 😀 The instructions are very easy to understand and understand. It was just fun.
Pin for Later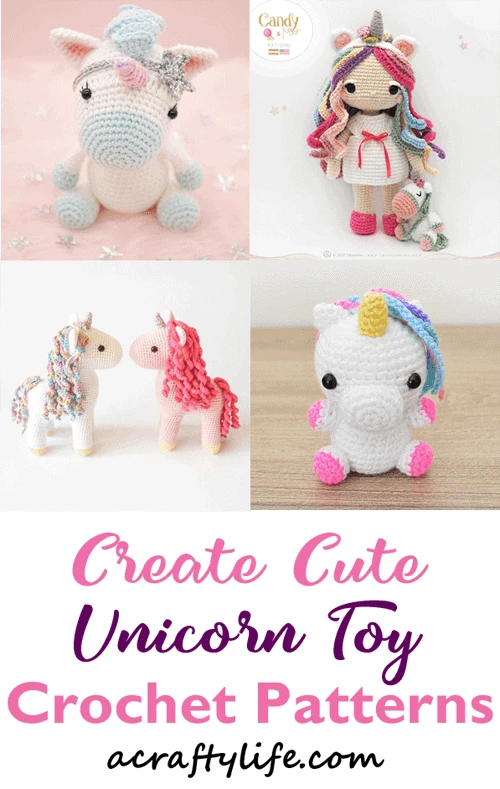 More Crochet Patterns