Love crocheting? Make one of these cute and practical storage crochet basket patterns to keep your stuff organized.
There are all kinds of crocheted basket patterns to try. There are round and rectangular crocheted basket patterns and different size. They would be a great catchall or yarn holder.
There are affiliate links in this post. I will receive a small commission if you purchase through these links at no additional cost to you.
Storage Crochet Basket Patterns
5 out of 5 – This was the first time I ever purchased a crochet pattern in which I thought that the price was worth the product. These instructions are essentially a book—written by someone who knows how to write precise instructions.
And there are pictures of important steps, instructions about how to read the pattern, etc.
5 out of 5 – Pattern was well written with clear instructions! Order pattern.
Love this pattern very easy to follow
5 out of 5 – I changed the leather color and sizing of the accent piece just for my own personal taste but I absolutely love the pattern. AllAboutAmi was great to work with!
LOVE this pattern. The pattern was very well written and turned out to be the most functional and chic basket I've made! Thanks Ami!
5 out of 5 – Always love shopping at KnitandCrochet for patterns! I love baskets and the way they make your home feel so "homey, welcoming"! This is such a great size as well as looks!
I haven't made it yet but it looks pretty easy to follow. I know that I'd I have any questions they will be answered promptly! Great patterns and great customer service! I'll be back!! Thank you!!
5 out of 5 – Great pattern, written well. Cannot wait to start. Very kind and attentive company. Thank you.
Basket in progress! I'm a month into crocheting and this is my first basket – pattern is great and I'm enjoying the project!!
5 out of 5 – Great pattern, clear directions! Arrived very quickly and everything was as expected. Pattern
5 out of 5 – Very easy to follow and fun to make! Pattern instructions were straight forward and a beginner could do this! Crochet Pattern
5 out of 5 – I loved making these utility bags. They crocheted up so easy and fast! Crochet Pattern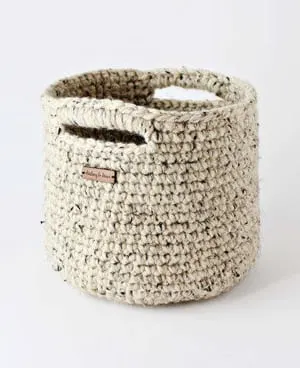 5 out of 5 – Fantastically detailed pattern, which takes you through every step. Includes a tutorial as well as the pattern alongside tips and hints, which are useful not just for this project, and details of how to make in different sizes. Loved making the basket, and already started another one!
5 out of 5 – Easy to follow pattern, works up quickly. Crochet Pattern.
5 out of 5 – Whipped these up for house warming present. Love how quick they are to make.
This pattern was great! Easy to follow, and they baskets ended up looking quite professional. I gave them as a gift and they were very well received!
5 out of 5 – Great pattern and cute basket. thank you! Crochet Pattern.
5 out of 5 – This designer has several crochet basket pattern for you to try.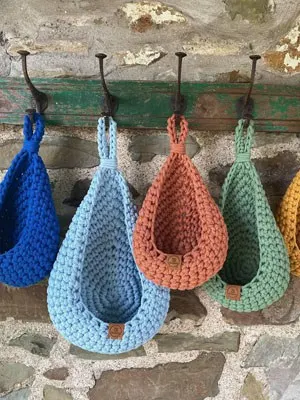 Great pattern, very clear instructions, especially for a beginner. I had a duh moment and she offered to make me a video to make sure I was clear. Once I cleared my head, I understood her written directions. So fun. I made air plant holders using the 24/7 cotton yarn using the same pattern for Mother's Day.
Super easy to whip these up! My daughter was delighted. Had to go out and buy a 9mm hook – only had up to size 6. Thank you for such an easy pattern and CLEAR instructions.
Pin for Later
More Crochet