Looking for an adorable baby gift? A gift that is cute and practical but not too hard to make? You can always use another easy crochet baby blanket pattern.
There are lots of different baby crochet blanket patterns to choose from, perfect for a little boy or girl. Most you can easily scale up for a throw too. Read the reviews and get ready to start your next crochet baby blanket project.
You could make some crocheted baby afghan blanket to donate to local charities too. Donating is a great way to enjoy your hobby and make a difference at the same time. You can check with the charities about sizes and styles preferred.
There are affiliate links in this post. I will receive a small commission if you purchase through these links at no additional cost to you.
Crochet Baby Blanket Patterns
I love this pattern! It turned out beautifully! I only had one question due to my inexperience but the shop owner was so nice and so helpful in responding to my question! I look forward to completing more patterns from this shop as I've already bought 4 more!
Try this lacy baby blanket pattern. It would be perfect for a sweet little girl. This crochet designer has other pretty baby blanket patterns for you to try.
Simple and gorgeous. Love the two pattern options to print. Beautifully written. Can't wait to use this for a variegated baby blanket as well as a "scrap buster" king bedspread. Plan to add a white border to each square before joining. The two samples I have made are SO pretty. Thanks!
Looking for a solid color blanket? This patterned baby blanket will be a perfect match.
After hours of looking at different baby blanket patterns to crochet (first grandchild on the way) I chose this one. So pleased I did, as it is a beautifully written pattern, that is very easy to understand. I love it
The pattern was simple to follow, and so much fun to make. I switched up a couple of colors to make the blanket a bit more girly and added my own border but I think she'll love it!
Have fun make cute word blanket that would be great for any newborn.
Did not finish my blanket yet but the pattern is really easy to follow. Can't wait to have it finished and to gift it to my friend
Make a classic textured crochet baby blanket pattern, great for a boy or girl.
I was able to make this blanket for my granddaughter. She even helped me to pick out the yarn. I loved the pattern and how the blanket turned out.
Make a modern version of the classic granny stitch in this blanket pattern.
There are many cute baby patterns from this designer, adorable baby booties plus lots of blankets.
Love this pattern! It is easy and works up SUPER fast!! And it is so pretty!
Make a pretty modern version of the shell stitch in this pink blanket.
This blanket is an easy blanket made using chunky yarn with a lovely bumpy texture. It should work up fast due to the bulky yarn and easy level. A great color for a modern or neutral baby blanket.
Lovely easy to follow pattern, well written and such a modern design. I'm part way through my first blanket and it's working up beautifully already.
I have been looking for something like this for a while now and think I will be making many more, such an easy pattern to follow whilst watching TV or just simply a piece to pick up for a bit of relaxation.
Can't wait to see the blanket finished, I am feeling confident that this is going to work out exactly how it looks in the sellers pictures.
Great for either a boy or girl, you could make it in yellow and green for a unisex blanket.
I really liked my purchase. The owner of the shop answered all my questions very promptly, even the one I asked before I bought the pattern! When I had a question about the instructions, she was really helpful and now the blanket is turning out beautifully!
Loved this pattern. Very easy to follow and fun to do. I made the blanket below.
This blanket was really fun and easy to make! I made a 4' square. The only thing I did differently was I started with a magic circle instead of the chain 3. It will be the perfect gift!!
This crochet designer has lots of pretty crochet blanket patterns for you to try.
Make this cute heart baby blanket pattern great for a boy or girl.
I absolutely love this pattern and its going to make a great baby shower gift for valentines day.
Great and easy pattern, blanket turned out great!
Fantastic pattern – easy to read and I am so happy with the end results! Thank you!
This crochet designer has several colorful blanket patterns to try.
Make a colorful striped baby blanket pattern.
Very happy with my purchase. Easy to download. I also like the separate attachment explaining the different stitches as it does get confusing trying to work from a UK term to another term completely. Would recommend and purchase from again. Thank you
An easy chevron blanket using chunky yarn. A quick pattern that can be made a different sizes.
Make a chunky classic ripple baby blanket pattern.
Pin for Later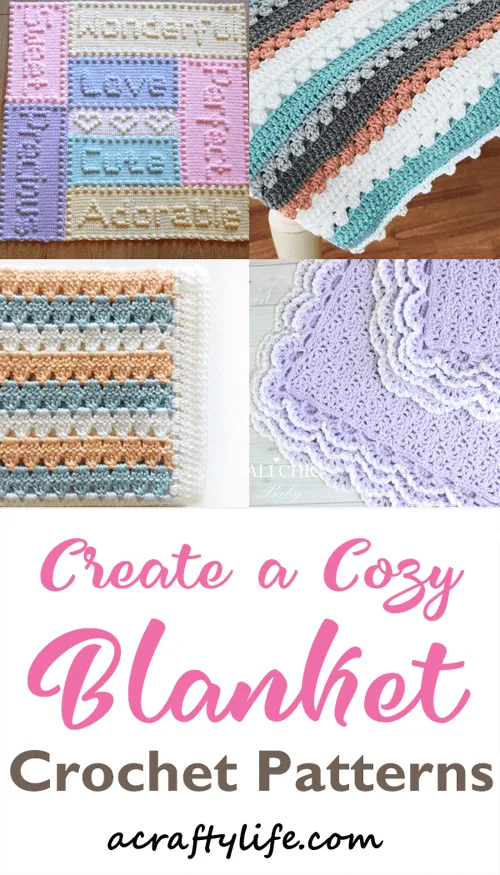 More Baby Crochet Patterns