Is your child into bugs? Make some fun caterpillar kid crafts from this list of bugs. There lots of different materials.
The weather is warming up and the bugs will be coming out. Be ready to have fun and get creative with caterpillar crafts.
You can mix the caterpillar crafts for preschoolers with reading and math for more learning fun. We like The Very Hungry Caterpillar and The Crunching Munching Caterpillar books.
Looking for some more bug crafts? You can see my finger painting butterfly craft, more butterfly crafts, bee crafts, ladybug crafts, and other bug crafts.
There are affiliate links in this post. I will receive a small commission if you purchase through these links at no additional cost to you.
Easy Caterpillar Crafts for Preschoolers
Recycle a egg carton into a very hungry caterpillar.
Make a fun caterpillar to buttery craft.
A cute bug craft for kids using pom poms.
Turn a paper chain into the Very Hungry Caterpillar. A great bug craft to do with the popular book.
Make a cute easy paper caterpillar craft with this printable.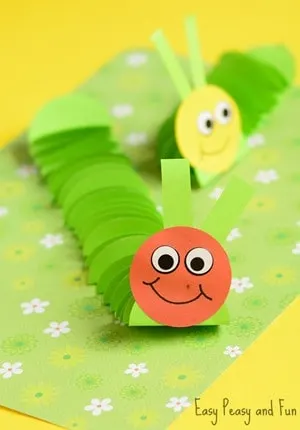 Use a circle punch to make this cute paper caterpillar.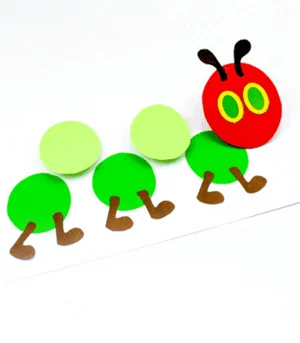 This cute Very Hungry Caterpillar is made from a printable. A great bug craft to do with a book.
Use a sponge to make this caterpillar kid craft. This bug craft is great for patterning too.
Make a cute necklace for this bug craft. Pair with the Very Hungry Caterpillar book.
Have a potato masher? Make this cute caterpillar craft.
Using some paper make this Very Hungry Caterpillar puppet.
Make some cute bug bookmarks.
Color a paper plate for this colorful caterpillar craft.
Make a wiggling caterpillar out of a printable on paper.
Make a cute 3D paper caterpillar with a printable template.
Have some left over Playdoh lids? Make this colorful suncatcher.
Pin for Later
MORE BUG CRAFT FUN
MORE SUMMER FUN