Is your child into bugs? Make some fun dragonfly crafts for preschoolers from this list. There lots of different materials.
The weather is warming up and the bugs will be coming out. Be ready to have fun and get creative with dragonflies.
You can mix the dragonfly crafts for preschoolers with reading and math for more learning fun, great for preschoolers. We like Eliza and the Dragonfly book.
There are affiliate links in this post. I will receive a small commission if you purchase through these links at no additional cost to you.
Dragonfly Kid Crafts for Preschoolers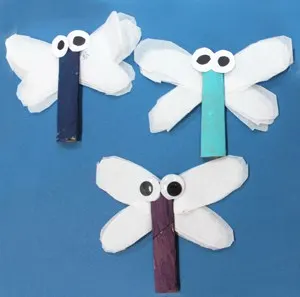 A cute dragonfly made using a paper roll and tissue paper for this dragonfly crafts for preschoolers.
A colorful dragonfly with a clothespin.
Use a pipe cleaner and beads to make this cute bug.
Use a cotton swab and paint to make this beautiful bug. Make your own colorful dragonfly craft.
Make a paper puppet dragonfly craft for preschoolers using paper and a straw.
Clothespins, plastic jewels, pom poms, and a pipe cleaner to make this bug.
Glittery paint and fabric make this shiny dragonfly.
A beautiful paper cutout and tissue paper makes this pretty bug.
Recycle a milk carton into a colorful bug craft.
Make this nature craft with sticks and maple seeds
Use a spoon and colorful paper to make this dragonfly craft for preschoolers.
Make a pretty dragonfly craft for preschoolers using buttons.
More Dragonfly Crafts for Preschoolers
Pin For Later
MORE BUG CRAFT FUN
MORE SUMMER FUN