Love crocheting? Make one of these cute koala crochet patterns for a great little gift or a cute baby present, for a boy or girl.
There are lots of different koala amigurumi crochet patterns to choose from. Read the reviews and get ready to start your next stuffed koala toy crochet project.
You will want to get plastic eyes for your crochet animal amigurumi. Amazon is a good place to find them. I got these eyes.
Need some tips on amigurumi before you start your amigurumi crochet Koala Patterns? Check out these links.
There are affiliate links in this post. I will receive a small commission if you purchase through these links at no additional cost to you.
Koala Crochet Patterns – Fun Amigurumi
5 out of 5 –Great pattern. Easy to follow. Will be making more than one for family and friends. Thanks Crochet Pattern.
I love this little guy! Thank you DIYFluffies for the very easy and super cute pattern. I made him in honor of all the Australian fur babies who didn't make it in the huge fire! RIP to all the koalas!
Super easy pattern. I made this into my version of a lovey and added flowers to her. I also used yarn for her eyes because safety eyes scare me and I gave her a smile.
5 out of 5 – Amazing!!! I loved Koala and this pattern.
Adorable pattern! Easy to follow and the final product came out great
Very cute pattern. The instructions are very easy to follow. I loved NYT finished product.
5 out of 5 –Crochet Koala Pattern .
Make a cute koala rug crochet pattern. There is a cute koala lovey too.
5 out of 5 –it is super, very thanks Crochet Pattern.
it is super, very thanks
This crochet designer has other cute amigurumi crochet patterns for you to try.
5 out of 5 – What a lovely design!! Cannot wait to get started. Thank you!!
Make a cute animal crochet pattern.
5 out of 5 –I made this for my sister for Christmas. She loved it! Pattern is simple to follow
I am so in love with this pattern and lovely Koala! I made the koala a little smaller because I couldn't find the right yarn.
The yarn I used is super fluffy but you just didn't see any stitches, which made it very difficult to crochet and count (but great for the end result :)).
For this reason "my George" has become a little smaller (Baby-George). The instructions were super understandable and just great! Thank you Irina, for this great instruction and cute amigurumi 🙂
5 out of 5 –Lovely pattern- easy to read
Great pattern! Very fun and quick to make. I used a 3mm hook and light weight yarn. Very happy with my adorable little koala.
Make a cute stuffed koala pattern.
This crochet designer has a ton of adorable crochet animal patterns for you to try.
5 out of 5 –Cute pattern. Easy to understand and make.
5 out of 5 –Love the crochet patterns from this designer! They are easy to follow and the finished item is so cute!!
I've not found the time to make this one up yet, but after having a look through the pattern I can't wait! Love the fact Patchwork Moose creates more unusual and mythical animals – definitely my favourite pattern maker out there.
5 out of 5 –Just great. Easy to understand. I am excited
Steps are clear and easy to follow! Love the pattern
This crochet designer has many different cute teether patterns, as well as, other adorable stuffed animal crochet patterns. Try a cute koala bear crochet pattern today.
5 out of 5 – A cute boy and girl koala pattern.
This crochet designer has tons of adorable animal crochet patterns.
5 out of 5 – Simply adore these three koala sisters. Started today and look forward to finish the trio before the New Year. Thank you
5 out of 5 –Happy with it like always
Beautiful pattern. Many thanks
5 out of 5 –this pattern is super easy to follow and adorable
This designer has lots of adorable animal crochet patterns, like teethers and loveys.
5 out of 5 – Who wouldn't love this hat!??? My son loves wearing this hat:)
This crochet designer has lots of cute crochet animal hat patterns.
5 out of 5 – The pattern is easy to follow and the product is super cute!
The cutest pattern I have ever made! This was also my second amigurumi I've made :') so proud of my outcome and the instructions were so clear and concise!
Made the panda first, it was so adorable
They are so cute! Can't wait to make them
In this cute crochet pattern you get three variations: a koala bear, a panda bear, and a sloth.
This pattern was perfect!! It was also super fun to crochet 🙂
No one could resist this adorable koala. Well outlined pattern with just the right amount of illustrations. Thank you
This crochet designer has many cute animal crochet patterns for you to try.
Try this cute koala pattern using Bernat Blanket Yarn, a super bulky chenille yarn.
It turned out so cute! I tried a different type of yarn because I saw someone do it in the reviews and I love the way it came out! Pattern was super easy to follow and it took me about a day and a half to crochet and stitch everything together.
This pattern was really easy to follow. The only part I had trouble on was the nose, but I reached out to the creator of the pattern and she responded super quickly and helped me out.
The only thing I would suggest is to sew on the facial features before stuffing, as that worked better for me 🙂 loved this pattern!!!! (ignore the yarn behind the ears lol, have not weaved them yet)
Pattern works up great. The only problem I had was with the flower potion. I don't know how to read those picture patterns but I kind of guess on how to do it. Lol it was a new thing for me so I think I did pretty good. Might have been a little off lol but I'm ok with that.
I used a larger gauge and it turned out amazing! The pattern is well written and I love it. I will be looking for more patterns from this creator!
Free Koala Crochet Patterns
If you are looking for a fun crochet project, look no further than this adorable koala amigurumi. This pattern is easy to follow and quick to make. The finished product is sure to bring a smile to the face of anyone who sees it. So why not give it a try?
Pin For Later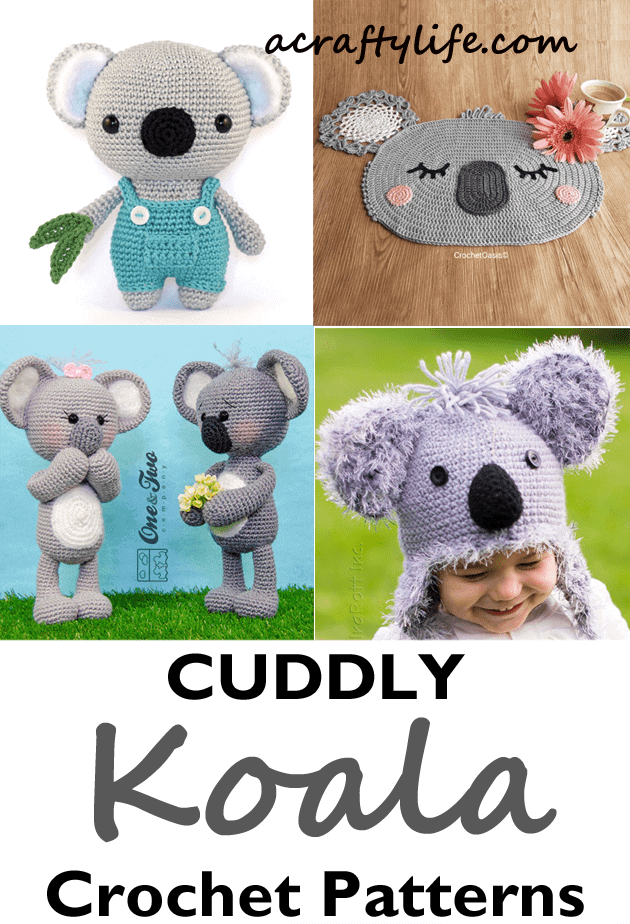 More Crochet Patterns