Fall is wonderful, great for fall crafts for kids! I can't wait for the cooler weather and fall activities. I enjoy walking by the river more when it isn't 100 degrees out, though this year it has been much cooler and wet.
I love the turning of the leaves too. Not raking up all our leaves, if you ever plan on buying a house with sycamore trees, don't.
There is bark and seed pods every where plus all the gigantic leaves. The leaves are great for painting things on and I have no shortage of them.
I have gathered tons of fun and easy fall kid crafts for preschoolers and kindergarten. As always, if they are too difficult for your kid simplify and if to easy make more complicated or creative.
You can use a variety of medias and vary them to your available supplies.
There are fall crafts for preschoolers including: apple crafts, leaf crafts, back to school crafts, pumpkin crafts, scarecrow crafts, fall tree crafts and more.
This post contains affiliate links. If you make a purchase through the link I will be compensated.
Fall Crafts for Kids
Apple Crafts for Kids – Fall Fun Activities
Make a fun apple tree recycling craft using a toilet paper roll and paint. You can make a fall or spring tree too.
Make an apple tree craft use paper plates and watercolors. This is fun and easy fall craft for kids.
Turn construction paper and a paper plate into a mosaic apple craft.
Make a fun tissue paper apple craft, great fine motor skill practice.
Use a cork to make a tree and glue on some red buttons for this fun fall craft.
Use yarn to make a red apple with using a plate.
Tear red paper and make this easy fall apple craft for kids.
For this fun apple craft for kids, use some brown paper and paint to create an apple.
Use colorful paper strips to make this 3D autumn apple craft.
Have fun making a colorful tree using an apple stamp.
Try this weaving apple craft using yarn and a paper plate.
Have fun turning pinecones into apple trees with this easy craft for kids, perfect for fall.
This apple tree craft is great for fine motor skills using the beads and weaving the yarn.
Make your own salt dough apple keepsake with this apple craft.
Back to School Kid Crafts and Activities
A cute back to school shape craft.
Make a cute pencil jar for all of those pencils.
Get your kid ready to go back to school with this count down calendar.
Make a fun school bus for a back to school kid craft.
Fall Leaf Kid Craft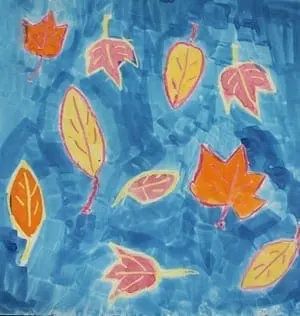 A little paint, a crayon and paint all you need to create this pretty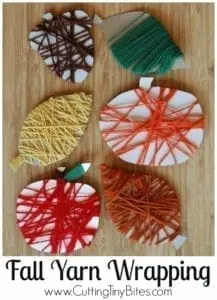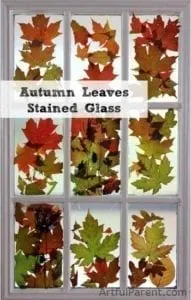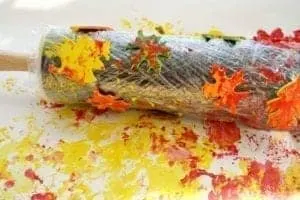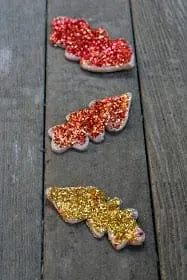 Create art with leaves in this fun decorative craft.
Make these pretty leaves using watercolors. You could use a stick and make a mobile or put them on the window as suncatchers
I have lots of leaves in my yard so there would be no shortage for this project.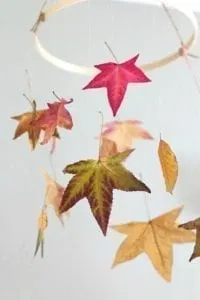 Use the nature beauty of leaves to make this fall mobile.
Make a pretty leaf bowl to hold some trinkets or candy.
Use your imagination and create some leaf people and creatures with this fun craft.
Go on a nature walk and pick up some leaves and create some rubbings.
Fingerprint Fall Tree
Make these pretty fall lights with jars and paper.
Have fun making a colorful fall tree craft and activity with fabric and cardboard.
Combine fall and math for this fun craft.
Tissue paper, glue, scissors, and a paper bag are all you need for this 3D fall tree.
Make a pretty fall tree or one for all seasons with this handprint tree.
Use this kitchen utensil to make a colorful tree.
Watercolors and bubble-wrap make these pretty trees
Have a snack and make an autumn tree at the same time.
Use this breakfast food for a fun fall tree.
Pumpkin Kid Crafts
Source: www.freebiefindingmom.com
Source: pintsizedtreasures.com
Source: buggyandbuddy.com
Source: crayonboxchronicles.com
Source: www.hellowonderful.co
Source: gluesticksgumdrops.com
Source: bargainbriana.com
Source: www.naturalbeachliving.com
Source: www.notimeforflashcards.com
Source: www.primarythemepark.com
Source: www.craftsonsea.co.uk
Source: www.madetobeamomma.com
Source: iheartcraftythings.com
Source: www.momdot.com
Source: balancinghome.com
Source: www.easypeasyandfun.com
Print out this free PDF pumpkin coloring page for an easy activity for fall or the letter P.
Make your own pumpkin with paper and a paint with this easy fall craft.
Scarecrow Crafts for Kids
thepinterestedparent.com
Grab a lunch bag and make this cute scarecrow.
blog.consumercrafts.com
This is an cute easy cut and glue craft.
www.craftymorning.com
Work on fine motor skills by tearing paper for this craft. Don't have the right color? Paint some white paper.
meaningfulmama.com
Turn some paper into a cute scarecrow face.
www.craftymorning.com
Turn some paper and sticks into a scarecrow head.
iheartcraftythings.com
Make this adorable craft with a bowl and paper.
Source: learncreatelove.com
A cute printable craft
pintsizedtreasures.com
An easy craft with use a few supplies
craftsbyamanda.com
A different take on a paper bag scarecrow
todayscreativeideas.com
turn craft sticks into a magnet
nontoygifts.com
recycle a paper roll into this cute craft.
thepinterestedparent.com
Have some left over cupcake liners? Make this cute craft.
www.modernmami.com
You will need craft foam for this craft
thepinterestedparent.com
Toilet paper rolls will come in handy for this scarecrow
lifeovercs.com
A free printable to cut and paste
artscrackers.com
Handprint crafts are always fun.
More Scarecrow Crafts
Other Fall Crafts
Source: thepinterestedparent.com
More Fun Fall Crafts for Kids to Make
Pin for Later
More Fall Crafts for Kids