Looking for a cute crochet rattle baby gift? One of these crochet baby rattle patterns would be a great addition to a baby gift, unique and special.
There are lots of different baby rattle and teether toy crocheting patterns to choose from. Read the reviews and get ready to start your next crochet baby toy project.
There are crochet baby toy patterns for lions, tiger, giraffes, monkeys, butterflies, and more. Any would make an adorable gift for a new baby. You could pick the colors to go with any nursery.
Tips on amigurumi patterns
The head of a lovey is usually done in amigurumi, working in the round with small tight stitches. For those who are unfamiliar, I have gathered some tips. Also, you can look for patterns geared for the beginner.
Check out these links
There are affiliate links in this post. I will receive a small commission if you purchase through these links at no additional cost to you.
Crochet Baby Rattle Patterns
5 out of 5 – It was my first amigurumi and i am so proud i could do it, thanks to the very clear instructions. the illustrations also really good, 5 stars, worth the money.
Next i will try the elephant. My 6 months old son loves the fox already?
This baby rattle comes with 3 other cute animal toy crochet patterns. This crochet designer has other adorable baby rattles too.
5 out of 5 – Wonderful pattern, very easy to understand and follow. Works up quickly and I'm so very pleased with the results. My little 4 month old granddaughter loves her new birdie rattle! I will be making many more of these soon. Crochet Rattle Pattern
5 out of 5 – I loved it!!! It looks perfect! Crocheting Rattle Pattern
I love it I'll do it for the babies
5 out of 5 –Easy to follow. Having fun so far. Not finished yet Crochet Pattern
Make a cute crochet baby toy pattern with these adorable bunnies. This crochet designer has lots of cute amigurumi for baby patterns.
5 out of 5 – I love Rnatas patterns They are easy to read and make. And always so adorable. I haven't got my rings for the rattles yet but done with the crochet pieces and it looks to be super cute. Will definitely recommend this shop for great patterns. Crochet Pattern
A cute giraffe rattle and teether crochet pattern. There are lots of other cute rattle patterns too.
5 out of 5 – Crochet Pattern
5 out of 5 – Click to order.
A cute gender-neutral monkey rattle. There are lots of different cute patterns in this shop.
5 out of 5 – The pattern is adorable and easy to follow! Can't wait to make more! Crochet Pattern.
5 out of 5 –Absolutely love all the patterns. Have made so many baby shower gifts that everyone loved. I am nearly tempted to keep them myself ? The patterns are all easy to follow and very well illustrated. Click to order.
Pin for Later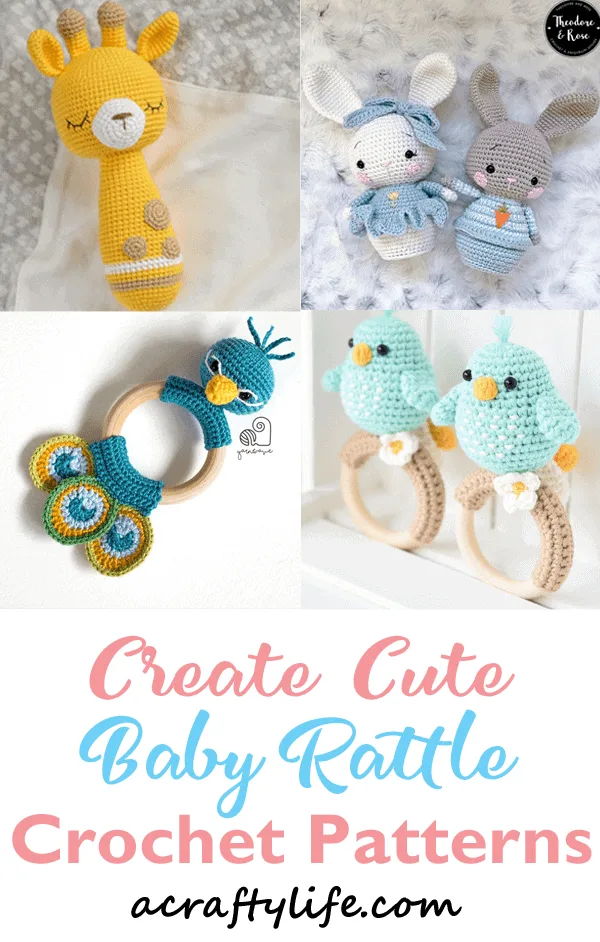 More Crochet Baby Patterns