Love crocheting? Make one of these cute amigurumi crochet cat patterns for a great gift for a cat lover or a cute baby present, for a boy or girl.
There are lots of different kitty crochet patterns to choose from. There are easy crochet patterns to intermediate. Try one of these stuffed cat crochet patterns.
Read the reviews and get ready to start your next cat toy crochet project. One on these cats would make a great gift for an animal themed baby room.
Need some tips on amigurumi? Check out these links.
There are affiliate links in this post. I will receive a small commission if you purchase through these links at no additional cost to you.
Cute Amigurumi Crochet Cat Patterns
Make a cute cat. This designer has other cute crochet animal patterns.
I love all Hainchan's patterns. Very well written, and they come out adorably!
Cute! It was easy to understand.
In this cute crochet cat pattern, you get four different cat patterns: siamese, tabby, calico, tuxedo
Wow! Can't recommend this pattern enough! Beautifully written, lots of clear photos, easy to read layout, and instructions were easy to follow. I particularly loved the super clear noted about placement of eyes, limbs, etc.
This cute cat is really fuzzy.
Easy to follow. This is such a cute cat. Thank you.
An adorable kitten pattern! To achieve the gauge the seller gave me of 38 sc and 28 rows = 10 cm, I used a #1 Super Fine weight yarn with a #6 steel hook.
My end product was a sweet little kitten about 4″ long. Thank you for such a cute pattern!
This crochet designer has a lot of cute amigurumi crochet animal patterns.
Your patterns are amazing and always so easy to follow!
Made this using WW yarn and G-hook, so it turned out larger than expected. It looks super cute worked in lemon yellow with white feet.
Absolutely lovely pattern. Really well written with clear photo tutorials. Really loved making these. Fairly easy to do, but with stunning results.
A cute stuffed cat pattern doing what cats love, napping. This crochet designer has other adorable amigurumi crochet cat patterns too, as well as, other animal crochet patterns.
Love this pattern! It looked great with the yarn my daughter dyed! Really easy, and nicely written.
You could make a cute black cat or another color of your choice of this adorable kitty cat pattern.
This pattern is EXCELLENT!!! It is so easy to follow with very detailed pictures and instructions! I LOVE this pattern and will purchase more from this store!
very nice pattern and well explained
This designer has lots of other cute animal crochet patterns to try.
This is an absolutely delightful pattern, I love the look of the kitties and that the pattern includes the instructions for the fabric dresses.
Pattern is very well written, and I really do hope to see more animal patterns in the future from this designer, because I will definitely be back for more! Love it
Such an easy to follow pattern. I make dolls and hide them at the park for children to find. I can't wait to hide it.
So darn cute. I love the colors and the whiskers and… Well all of it. Easy pattern to follow. I will buy from this seller again.
This designer has other cute amigurumi crochet hat patterns, as well as, animal crochet patterns to try.
Super easy pattern to follow and super cute cat when finished. This is not my first pattern by bigbebez and I have loved them every time!
This is the cutest cat pattern I have ever done. The face is incredibly pretty, I've used the pattern for the body with other animal heads and it always looks amazing! Just a really dope pattern
The pattern is adorable. The best cat face ever! The pattern was well written, accurate and easy to understand. Thank you!
Super happy, very pretty and very well explained with photos and videos. I sincerely recommend and will buy again. Thank you so much
This was SUCH an easy pattern to follow!! I am a BEGINNER crocheter (who is coming hot off of a wooble) and this was so simple and clear and easy to do!
I did alter the pattern to make eyes instead of using safety eyes because I am gifting this to my 3 year old niece, and I made a collar and added an extra whisker… but this pattern made doing so SO easy! Thank you so much!
Pattern is super well written out and I loved it!! I made a version of miles from Emily the strange with this pattern using a thicker yarn and 8mm yarn hook and I adore it!
Pin for Later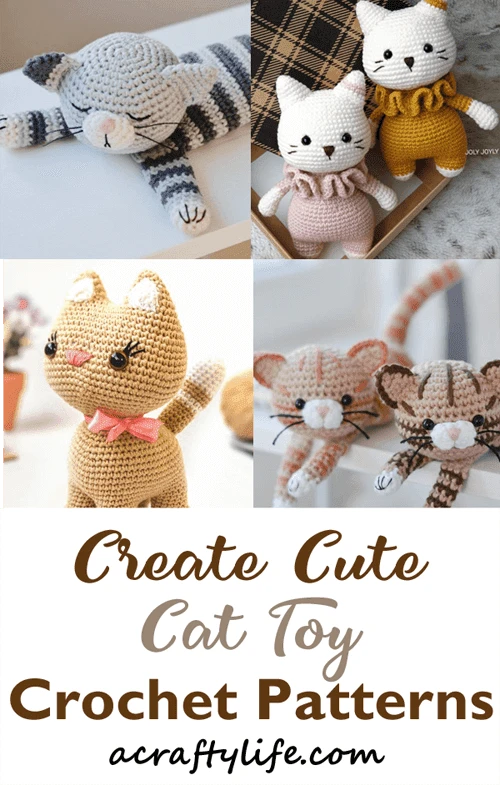 More Amigurumi Crochet Patterns