Love crocheting? Make one of these cute crochet owl patterns or a great gift for a owl lover or a cute baby present, for a boy or girl.
There are lots of different amigurumi owl crochet patterns to choose from. Read the reviews and get ready to start your next stuffed owl toy crochet project.
One on these crocheted stuffed owls would make a great gift for a woodland themed baby room.
Need some tips on amigurumi? Check out these links.
There are affiliate links in this post. I will receive a small commission if you purchase through these links at no additional cost to you.
Crochet Owl Patterns
Make this cute stuffed owl toy crochet pattern. This designer has lots of cute of animal crochet patterns for you to try.
–As always, such a great pattern! I'm a novice at crocheting (self taught) the pattern was very easy to follow, I did struggle with the feet so I had to make an alternative but all in all I loved making this.
Fantastic pattern. Really easy to follow. I have already purchased and started the flamingo pattern as well!
Make a cute owl key chain.
Simple pattern and beautiful results. I had to modify it a little due to a special request, but still it amaze me the cuteness of this little friend. I'd recommend it.
This is a darling little owl. I have a Grandniece who will love to get it for her birthday. Nice easy to read instructions and lovely photos.
Make a cute crochet owl pattern. This owl pattern would make a cute baby gift.
Make this realistic barn owl crochet pattern.
This is a very beautiful pattern that is very detailed. I love it. I have a collection of owls and this will go great with my collection. This designer is great.
Lots of pictures, so it's very easy to figure out what to do. Detailed description. I am very happy with my purchase. Thank you!
I am in love with your animal friends. Thank you so much for sharing them with us.
This pattern is well written and with basic shapes I found it easy and relaxing to crochet ☺️ my finished owl is what I love most.
very easy to read, love it!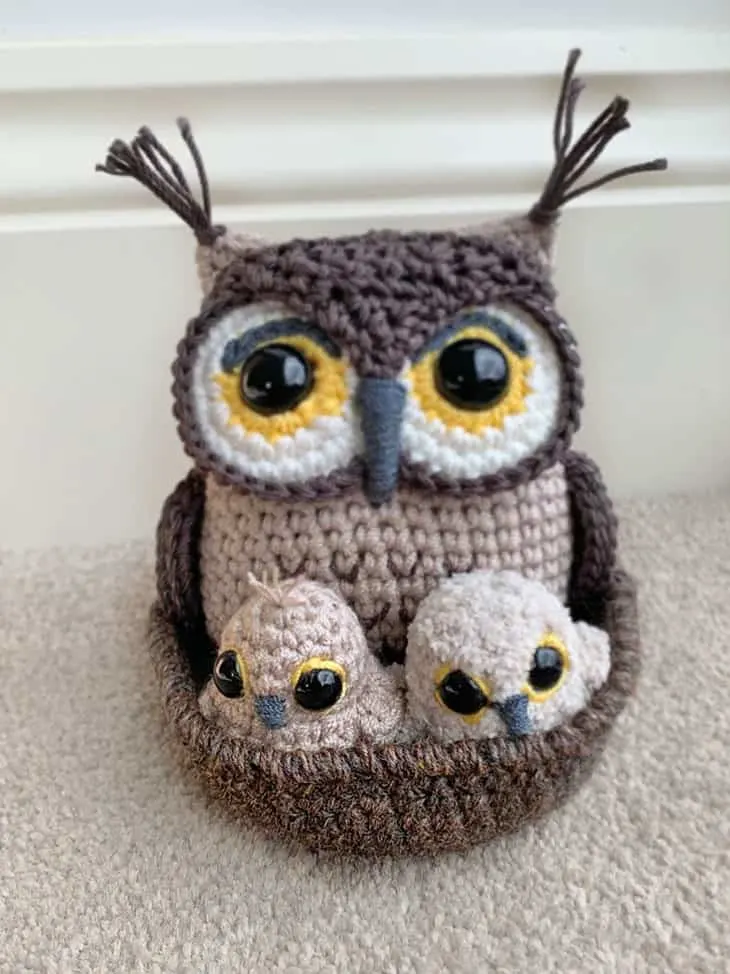 Cutest thing ever! I made owlet using velvet yarn ( I had to adjust egg a tiny bit for size), and he looks almost real! This is a great idea and the owl, egg, baby, and nest all turned out very well using worsted wgt yarn. I love it! Highly recommend this pattern.
Love this pattern! Adorable, received many compliments. Takes a good amount of time, as if you're doing multiple small projects, but I think I finished it in under two weeks with only working on it in the evenings. I just started crocheting two months before attempting it and I was able to follow along.
Well-written pattern with plenty of helpful photos. My owl turned out as adorable as the one in the photo! Love it!!
5 out of 5 – Very easy to follow and fun to make! Pattern instructions were straight forward and a beginner could do this! Crochet Pattern
Free Crochet Owl Patterns
If you're in the market for a new crochet project, why not consider making one of these adorable stuffed owl patterns? They make perfect gifts for friends and family members, and they're sure to bring a smile to everyone's face. So get your crochet hooks ready and let's get started!
Pin for Later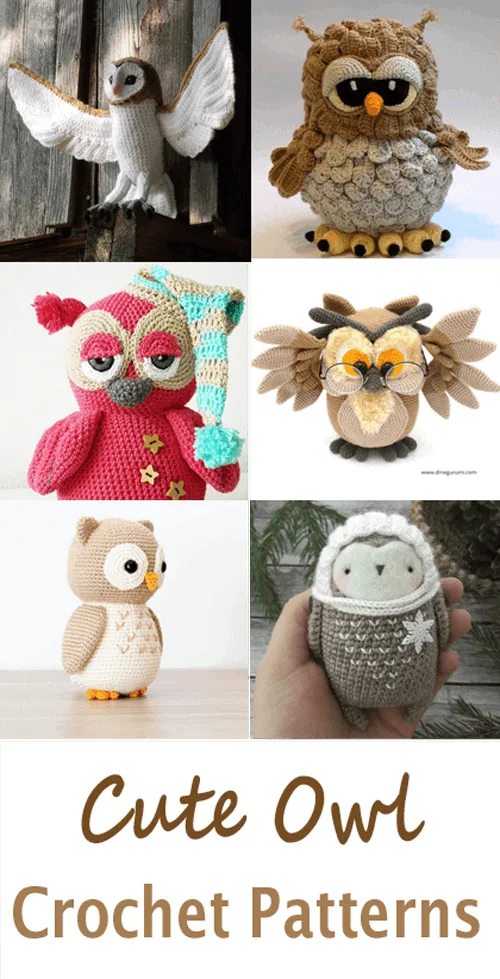 More Amigurumi Patterns