Love crocheting? Make one of these cute amigurumi monkey crochet PDF patterns for a great baby gift or a cute baby present, for a boy or girl.
There are lots of different amigurumi monkey crochet patterns PDF to choose from. Read the reviews and get ready to start your next crochet monkey stuffed toy project.
One on these stuffed toy monkeys crochet patterns would make a great gift for a zoo or safari themed baby room.
Most crochet designers have lots of different animal crochet patterns for you to try. There are all kinds of cute amigurumi patterns available.
You will want to get plastic eyes for your crochet animal amigurumi. Amazon is a good place to find them. I got these eyes.
Need some tips on amigurumi? Check out these links.
There are affiliate links in this post. I will receive a small commission if you purchase through these links at no additional cost to you.
Amigurumi Monkey Crochet Patterns – PDF
5 out of 5 – Very cute and easy to follow
I made the larger size. Directions were easy to follow.
Make a cute stuffed monkey toy in two sizes with is crochet pattern PDF.
Skill Level: Intermediate
5 out of 5 – Very clear and detailed instructions! Works up beautifully with no issue. I modified the pattern for a security blanket and I'm excited to make an entire monkey!
This monkey pattern was super easy to follow! This is my first amigurumi project and only my 4th project ever. I love how it turned out! The directions were easy to follow and very well laid out. The pictures to help with the feet were also very nice to reference. I would definitely recommend this pattern!
Yarn Needed: Worsted Weight Category #4
Skill Level: Advanced Beginner/ Intermediate
5 out of 5 – I love the monkey very much. The instructions were good. I got the instructions immediately after payment.
Thank you.
This was the second time I had ever done any crochet. It was easy to follow. It took a while to make as there were lots little bits to make like the fingers and eyes ect… it was enjoyable to make and I love the result.
Easy to follow instructions. Complete pictures on how to sew together. And crochet eyes no buttons for baby to swallow. My turned out great.
Skill Level: Advanced Beginner/ Intermediate
Yarn Needed: Sport or Worsted Weight
5 out of 5 – I love making monkeys and this pattern is just AWESOME!
This is an absolutely excellent pattern! Well set out, good pictures. I've just finished my monkey and he is adorable. I did alter the feet to just bigger versions of the hands as the 'boot shape' didn't appeal but that's just personal preference. I'm not one to usually leave feedback but felt I should for this pattern as it's just SO GOOD!!!. Many thanks
Made this pattern for my daughter. It turned out so cute that I am going to make another one for my granddaughter! The pattern was very easy to follow. I added a hat to him.
5 out of 5 – Gorgeous! Another cute design, so sweet thank you. I love your cute creations
Well written, I'm loving making this cutie! I'm using ww & an F hook, started this morning & I'm 75% done already.
5 out of 5 – Loved making this little guy.
Absolutely love this pattern ! It's crystal clear with very handy photos – it has the all important stitch counts at the ends of rounds and the monkey looks absolutely wonderful with a comical edge ! I haven't finished the legs yet but I love it so much – I had to share !!
5 out of 5 – Very easy to follow and great project to work on.
Easy to follow pattern. I made a few of my own changes as I didn't want the buttons on the legs nor did I want the wire in the head and body. Otherwise, it's a great pattern!!
5 out of 5 – Great pattern, so easy to follow and it worked up in no time.
He is so adorable!! And the perfect size! Pattern was well written and super easy to follow. Great tutorial and design!
5 out of 5 – Easy to follow, great construction
Excellent pattern! Well written and easy to read. Pictures were very helpful. I made a Starbucks Barista Monkey with this pattern as a gift for someone.
5 out of 5 – My absolute favorite stuffed animal designer!
I liked this pattern because the result was just like the picture. The instructions were easy to follow, easy to print (6 pages), and contained details like the cuffs, collar, and star motif that added special touches to this little monkey. Thank you, MyKrissieDolls.
You can find all different kinds of cute animal crochet patterns from this crochet designer.
5 out of 5 – Really easy to follow pattern, love it
Turned out super cute pattern easy to follow quick to make too
Make a cute little crochet monkey pattern with this adorable pattern. This crochet designer has lots of other cute little crochet animal patterns for you to try.
5 out of 5 – Make a cute girl monkey stuffed animal crochet pattern. Crochet PDF
Make a cute rainbow monkey teether baby toy crochet pattern.
Super cute, easy to follow instructions, thank you!
Absolutely loved the pattern – added a little heart on the belly for a wee added extra and left off the brow but very happy with the end result thanks
I bought this pattern as a gift for my mum, as she wanted real bad to start making some amigurumi, she loves all this stuff and has gifted hands, and the result was stunning! The pattern is perfectly explained and very complete (Spanish language was a super plus) and the design of the cute little monkey was top notch!!! thanks a lot!!!
Super easy pattern to follow and works up quick!! Absolutely in love with how he came out
This pattern is easy to follow and it's super cute! I love the monkey and I'll definitely be making more. This shop has such great patterns!
As many have mentioned, there is no tutorial for how to assemble the monkey, but if you feel comfortable doing that on your own it really won't be a problem!
Fantastic pattern otherwise, beautiful monkey! My hood turned out a little bit to small but maybe I used a too small hook 🙂
Great pattern. Easy to follow instructions and great design. Thanks so much for the pattern! I will just say that I found it odd no notes for hook size except for the hood part of the pattern.
For anyone wanting to know I used a size H hook for the whole project. There was no instructions on how to sew the pieces on but I was comfortable figuring that out myself. Happy Hooking!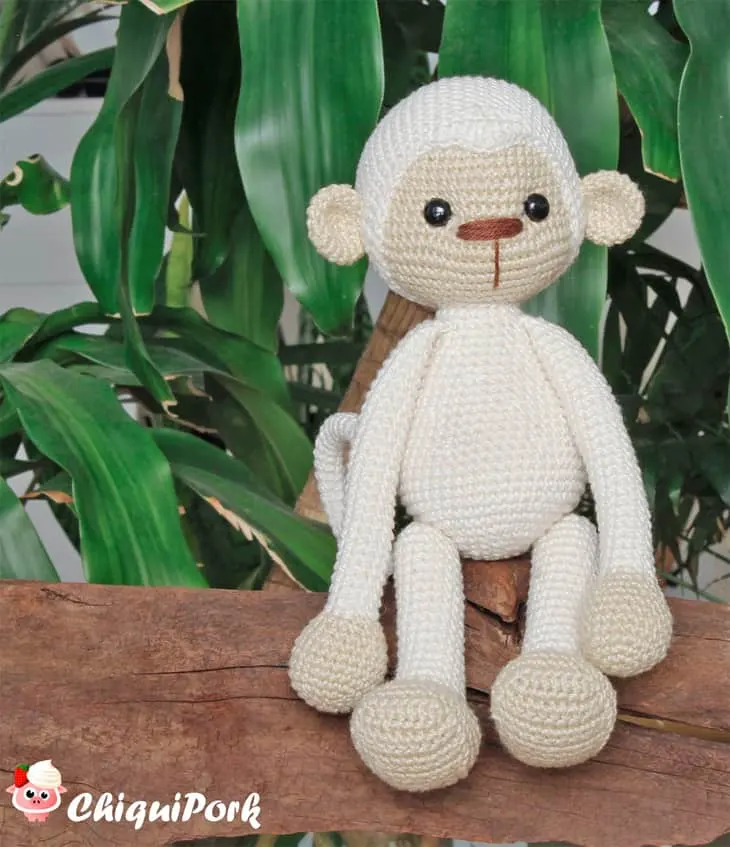 This little guy turned out absolutely perfect. I love these patterns.
PDF in French, great! Very well explained with many drawings to illustrate the different steps, easy to follow even for a beginner like myself with crochet and amigurumi
One of my new favorite patterns. Chiqui Pork has amazing details to his patterns that results in adorable animals with personality. I will definitely purchase from this shop again.
Made this with fluffy yarn and it turned out so so cute! Very easy to follow and super adorable. I added a small magnet in the hand (secured with a dab of fabric glue) and a magnet in the banana to help hold it in place! I love it!
I modified the pattern a bit to give him more of a "bowling pin" shape, but the pattern itself was super easy to follow and my guy came out super cute!
I used this pattern to make 3/5 of my kids a monkey for Christmas. It's a perfect pattern. Her style is my favorite. They work up incredibly quick! Easy to follow! Lots of grids and photos.
This turned out super cute and the directions were the clearest I've ever seen. I love how the seller provided pictures of different steps to clarify how the process was done instead of just relying on wording to convey the process.
It made a big difference in my confidence that I was interpreting the instructions correctly. I highly recommend this pattern!
Free Amigurumi Crochet Monkey Pattern
If you are looking for a fun and unique crochet project, why not try making an amigurumi monkey? This cute crochet pattern is perfect for beginners, and the finished monkey makes a great addition to any collection. Have you tried making a monkey crochet pattern before? What tips would you share with other crafters?
Pin for Later
More Crochet Patterns