Sewing Minky Tips
Minky is such a soft fabric and makes great blankets. It is long lasting and fade resistant. The fabric doesn't wrinkle easily either but it is hard to sew with at first. That is why I'm sharing my minky tips.
Wondering what a minky blanket? Minky or Cuddle fabric is a kind of soft polyester fleece fabric. Minky blankets are blankets made out of the soft fabric.
It comes in many patterns, solids and embossed designs. The fabric is mainly sold through Shannon Fabrics. They call their fabric line Cuddle. Fabric.com is a great place to get minky. If you buy over $50, your shipping is free. Etsy is also another good place.
Minky has one major problem. It is hard to work with if you don't have any experience with it. When I first started working with it, it seems to have a life of it's own. I would pin it and it would move. I would have to rip it apart and try again.
I will share my best tips for how to sew minky fabric. I have made thousands of blankets when I had my Etsy shop, so I have tons of experience on how to sew minky fabric.
How to Sew with Minky Fabric – Sewing Minky Tips
1. My favorite tip KK2000 Sulky Temporary Adhesive – Spray at the edges around the entire blanket. It takes about 2 hours for it to go away. It is not water soluble so you might need rubbing alcohol to remove it. If you use to much you can use a cotton ball and the alcohol to remove the excess. Make sure you do not dry the blanket anything but low. It can make the adhesive leave a matted texture.
2. Minky is directional, pay attention to the nap. The minky dot is spaced differently so when you are sewing make sure all your pieces are going the correct direction.
3. The fabric stretches. When you cut it make sure the fabric is not pulling off the table.
4. It is heavier than regular cotton, make sure when you sew it to back stitch at the beginning and end several stitches.
5. Use a lot of pins. I use a straight pin about every 1 in – 1 ½ in when sewing with minky.
6. Increase your seam allowance. I use ½ in seam allowance. Minky tends to move.
7. Sew with the minky on the bottom if you can.
8. Do not iron minky.
9. Minky does not shrink. Prewash your other fabrics.
10. Another suggestion is to use a walking foot to help feed the fabric on both the top & bottom. You can purchase a generic one on Amazon.com.
11. Minky is messy. When you cut minky it comes part in small sections, which seem to stick to everything. I have found the solids and the rose swirl are the worse.
12. Don't forget to clean your machine frequently. Minky makes a lot of fuzz.
13. Use a jersey tip needle 90/14. This works better than you standard needle for woven fabrics.
14. Sew at a steady pace. Using your left to move the most of the fabric while your right hand is carefully feeding the fabric to the pressure foot. Make sure the fabric underneath is smooth and not tangled.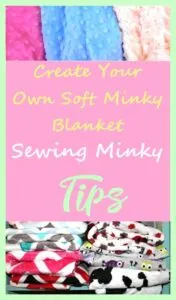 This post contains affiliate links
A great place to purchase minky if from Fabric.com on Amazon.com