The crocus have already bloomed and the daffodils are out, next lovely tulips. Spring has arrived, yea! Soon there will be blooms on the flowering trees, crab apple, ornamental pears, and cherry trees.
I look forward to spending more time outside, lots of hikes by the river walk, planting flowers, and trips to the park. Make this easy cherry blossom Handprint Tree.
I made this with my 2 year old, who loves to paint. She was more interested in making swirls then dots for the flowers.
Cherry Blossom Handprint Tree
Supplies
Paint – Brown, pink and white – i used cheap acrylic paint
paper

step 1.
Paint 1 hand and up the arm brown for the tree trunk. Have them press their hand with their fingers spread wide and arm in the center of the paper. Peak to see if there is a print if not press down again.
My toddler was more interested it finger painting but we did get 1 good tree. I always keep some wet wipes near by to for easy clean up.

step 2.
Pour a small amount of pink and white paint on a plate or plastic lid. I always have extra plastic lids and they make for easy clean up.
Then using the pink paint dip your finger in and make dots all over the hand and fingers part of the print. Next use the white to make more dots. Finished
You could add some grass, sun and other details for older children. As spring continues you could come back and add leaves.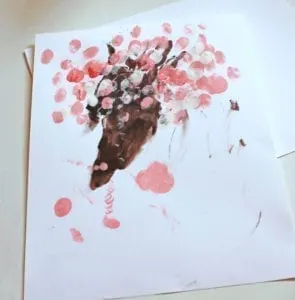 More Tree Crafts
More spring crafts, fun & bright for all ages