Looking for a fun and easy Christmas craft project? Look no further than this adorable gingerbread man Christmas ornament!
This is a great project for kids of all ages, and it's so cute you'll want to make one for every member of your family. Follow the simple instructions below to get started.
With just a few simple supplies, you can help your child create a one-of-a-kind decoration that will add some festive cheer to your holiday décor. So gather up the kids and get crafting!
This fun paper plate gingerbread man craft uses markers and small paper plates. Pair a Christmas craft with some Christmas books, for reading practice and arts and crafts together.
Looking for more fun Christmas crafts? I made a cute wood reindeer ornament and easy tin foil Christmas ornament. and fun fingerprint Christmas tree craft.
There are lots of other Christmas crafts to try also, Christmas trees, Reindeer Crafts, Angel Crafts, Christmas Ornaments, and Christmas Wreathes.
There are affiliate links in this post. I will receive a small commission if you purchase through these links at no additional cost to you.
How to Make an Easy Paper Plate Gingerbread Man Christmas Ornament Craft for Kids
Supplies
safety scissors
small paper plates
pencil
glue
markers, colored pencils, crayons or paint
white yarn for decoration and for ornament hanger
Step 1.
First, color the small plate with brown.
Step 2.
Add eyes and a mouth with a black marker. Then add red for the cheeks.
Step 3.
Next, cut a strip of red construction paper about 1.5 inches wide. Draw a bow on the back of the paper.
Cut the bow out. Glue to the top or bottom of the circle. Make sure to leave room for a hole to hang the ornament. Let dry.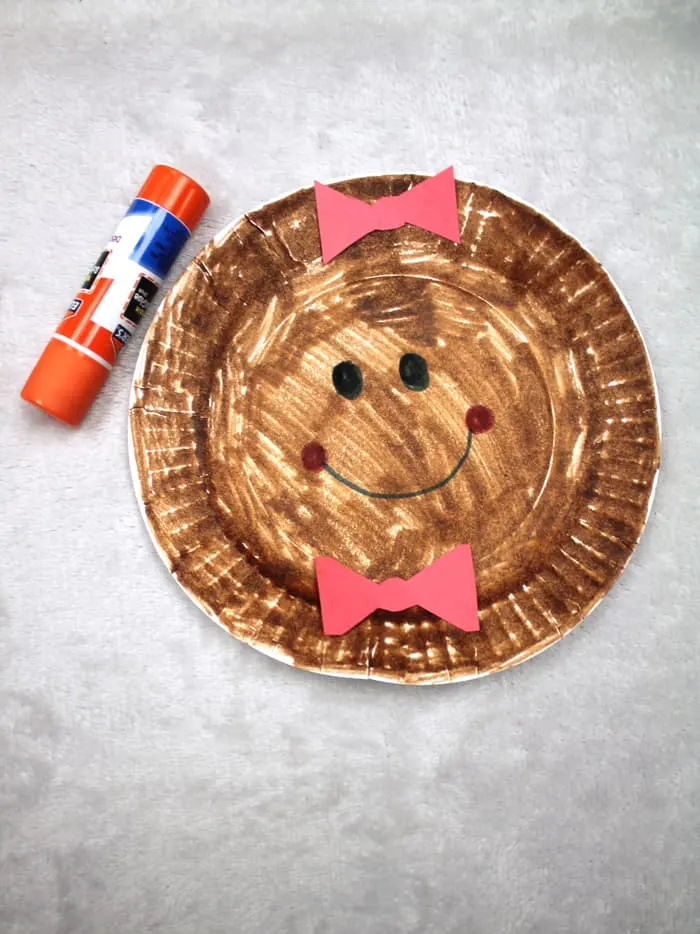 Step 4.
Next, cut a piece of white yarn and glue it towards the top in a wave line. I used a glue stick and first put a stripe of glue and then pressed the yarn into it.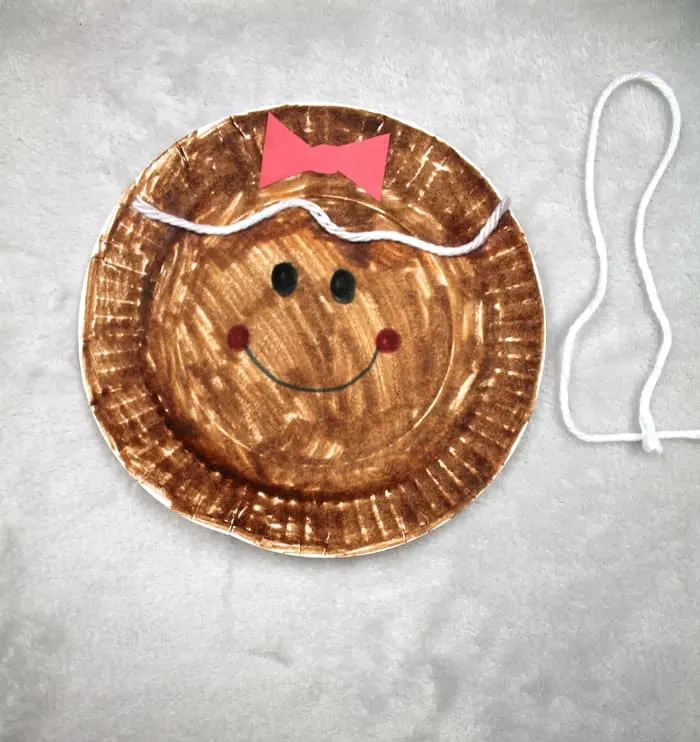 Step 5.
Finally, put a small hole at the top of your ornament. Thread the yarn through the hole and tie a double knot.
Tip: Make sure to put the hole away from the edge so it doesn't tear the paper. A hole punch works well, too.
Your paper plate gingerbread ornament craft is finished.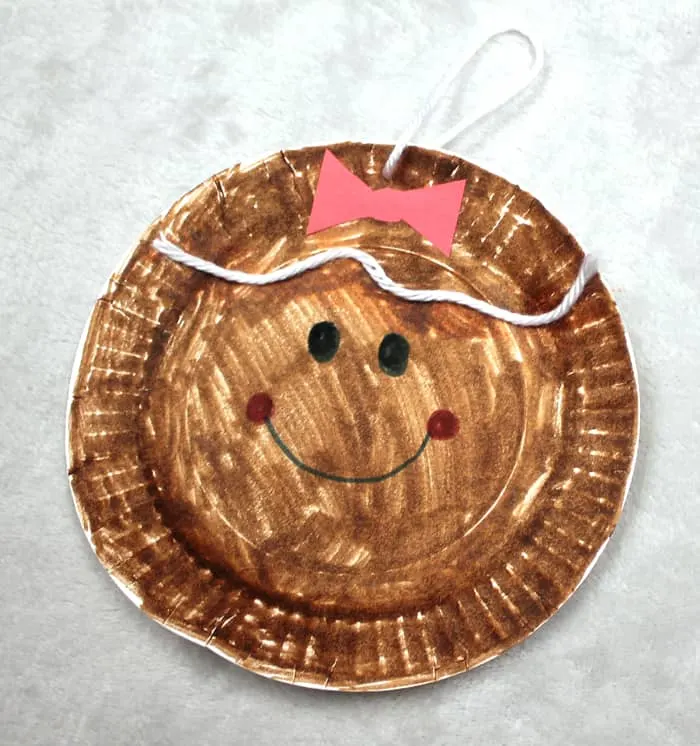 What other cute Christmas ornaments could you make from a paper plate?
Fun Paper Plate Santa Christmas Ornament Craft, Cute Paper Plate Penguin Christmas Ornament Craft, or Easy Paper Snowman Ornament Craft for Kids
What a more permanent finished ornament? Use a blank wood circle and paint.
More Gingerbread Man Crafts for Kids
Christmas Crafts with Kids
Winter Crafts with Kids
Pin for Later