Love crocheting? Make one of these cute crochet piglet patterns for a great little gift or a cute baby present, for a boy or girl.
There are lots of different piglet stuffed toy crochet patterns to choose from. Read the reviews and get ready to start your next stuffed pig toy amigurumi crochet project.
You will want to get plastic eyes for your crochet animal amigurumi. Amazon is a good place to find them. I got these eyes.
Need some tips on amigurumi? Check out these links.
There are affiliate links in this post. I will receive a small commission if you purchase through these links at no additional cost to you. I received the pattern for free but the opinions are my own.
Crochet Piglet Patterns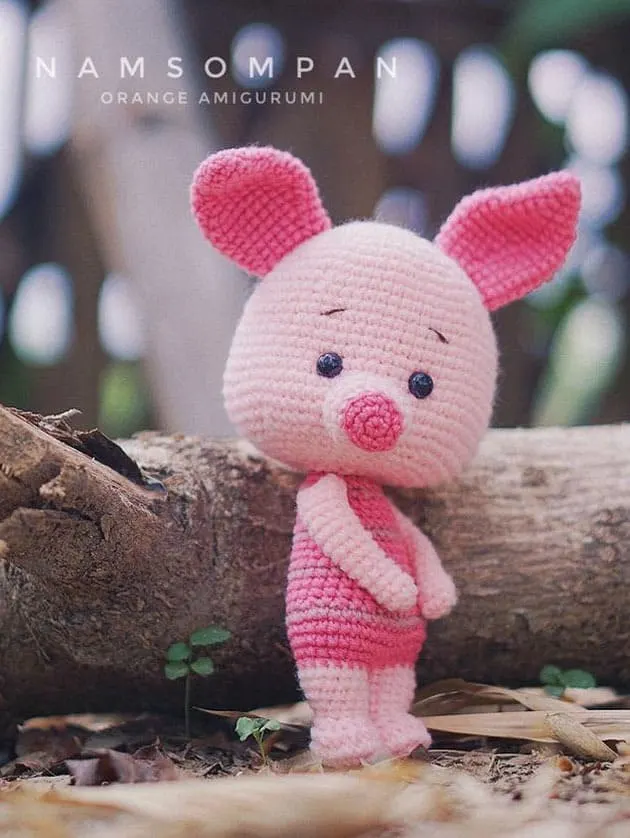 Very easy to follow along and lots of helpful pictures. Had loads of fun making piglet and his friends.
My second of the Hundred Aker Wood friends. I'm really enjoying these patterns. Thank you!
Make you own cute Piglet. He would be a great friend for Pooh.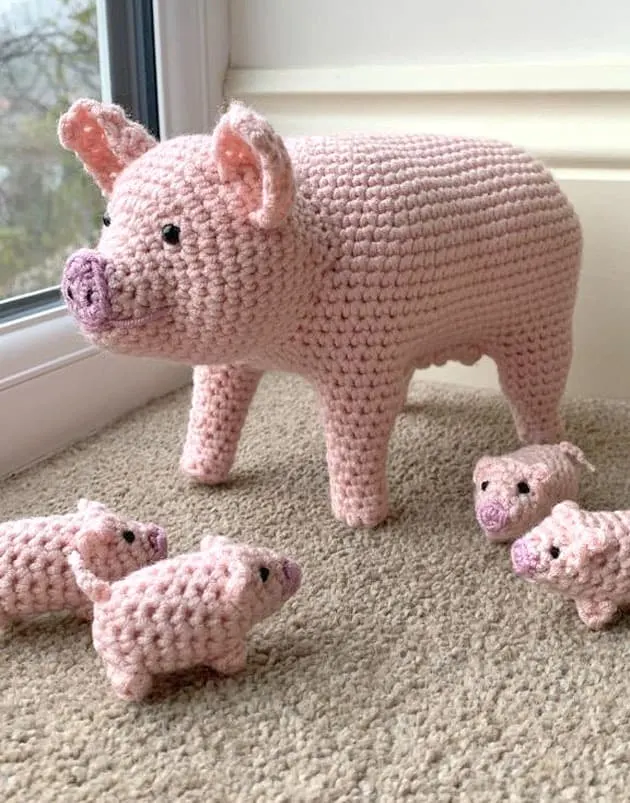 This pattern is amazing! I am not a beginner but definitely not experienced either. I felt this pattern was broken down in easy steps and the pictures are so so helpful! Good sized, quality, and in color.
I feel like a beginner could do this pattern too with a little help from online videos to look up what the stitches are as needed.
I didn't have the typical pig yarn so I didn't add the two colors for the nose as well as the nose/eyes on the babies but everything still came out really well. I'm very happy with my pig and babies!
5 out of 5 – Wonderful pattern! Easy to follow instructions, nice color combo, will definitely recommend buying from this seller. Looking forward to working on another pattern!
This designer has a lot of other cute animal crochet patterns for you to try.
5 out of 5 –This was such an amazingly easy pattern to follow. She wrote great instructions and the pictures helped tremendously when I did get a bit stuck.
I finished my Pippa a bit differently and added my own flair. I count myself as a beginner as this is only my 3rd attempt at a stuffed 'lovey'. But the result made me feel like a pro. 🙂 Crocheting Pig Pattern.
You get the pig and a bear in this pattern.
5 out of 5 –Pattern is so adorable! I cant wait to make them 🙂 Seller responds to any questions you have. Crocheting Pig Pattern.
Great pattern, easy to follow. I enjoyed making the amigurumies.
5 out of 5 –Super adorable piglet! I need to make another for my baby!!! Super easy to follow pattern with photos to guide! Love love love.
This pig is the cutest. I have loved making these little creatures. I fall in love with them while stitching them. They are a little tricky, and I have had to unpick more than once, but they are so cute when finished.
5 out of 5 –Great pattern easy to follow.
This pattern was great and I was able to create the perfect little pig with it.
Make a piglet and his family with this cute pattern set. This designer has lots of other adorable animal crochet patterns for you to try.
5 out of 5 –Love this family version, the little piggy is adorable!
Amazing pattern, easy to follow and make yourself a piggie! It is a great value because you get multiple pig patterns so you can make the size that is the best for you. I highly recommend
5 out of 5 –This piggie was so much fun to make. The instructions are fantastic and very detailed.
Great pattern! It was easy to follow and all the photos helped make the pattern even easier to follow. My daughter is really into Minecraft. I modified the pattern to resemble the zombified baby pig "Piglin" from Minecraft.
5 out of 5 – It is a very nice pattern.
One of several pattern purchased from this talented designer. The shop is lovely and communication was quick and easy, The owner responded very quickly to my question. The patterns look very well written and I am looking forward to making them all. They are all so pretty. Thank you very much.
Make a cute girl with with a dress.
5 out of 5 – Super tuto, very well explained, I recommend Click to order.
Very cute. Easy to follow pattern. Highly recommend.
Make a cute piggy using chenille yarn. There are other cute animal patterns too.
Love this pattern! Pretty easy and definitely easy to follow. The only thing I was confused about was the tail, because I had never heard one of the terms she used. I made a giant pig for a custom and it turned out great!
Super easy instructions. It was fun to make! My nephew loved it.
Free Crochet Pig Patterns
Pin for Later
More Crochet Patterns