Summer is on the way and I can't wait. The grass is greening up and the dandelions are blooming. This dandelion nature craft for kids is easy and fun.
It is free if you have paper and paint. Pick some dandelions and make this colorful dandelion nature craft painting. Great outside and pick some dandelion and then come in and cool off and create.
How to Make a Dandelion Nature Craft for Kids
Supplies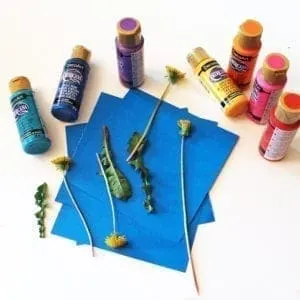 First, cut a sheet of 12 in blue card stock paper into 4 parts. I was going to try more of a stamp image but the paint is to globby, maybe a ink pad would of worked. Then, pick 3 or 4 of the bright colors and put a circle about an 1 in wide on a paper plate. Dip a dandelion in the color and stamp. I used one flower for each color. Then I dragged the leaves through the paint and stamped them on the paper.
My toddler did the activity too. She was more interested in finger painting than stamping. She loves to paint.
Remember the apron or painting clothes, while acrylics clean up with water, they don't come out of clothes easily. My favorite bib/apron is this one. It is water resistant and has velcro at the neck and back.
Pin for later
More Nature Crafts
MORE KID CRAFTS, FUN & BRIGHT FOR ALL AGES