Looking for a fun and easy flower craft project for your kids? Look no further than this printable flower craft for kids! This project is perfect for kids of all ages, and requires only a few simple supplies. Best of all, the finished product is sure to brighten up any room. Ready to get started? Let's go!
This craft project would be great for toddler and preschoolers to older children. You could have your kids use their fingers, markers, or a brush too.
For kindergartens and younger, you would want to cut or punch out the flower for them. The flower is two small for their scissor skills.
Pair this craft with a book for creating and reading fun. We like Little Blue Truck's Springtime.
Looking for more spring fun crafts? Try this hyacinth paper craft or fingerprint cherry blossom craft. There are also more than 50 spring crafts to try. Try these flower crafts or this watercolor tulip.
There are affiliate links in this post. I will receive a commission if you purchase through these links.
How to Make an Easy Printable Flower Craft for Kids – Free Template
Supplies
Free flower printable template – get printable at the bottom of post
Crayons
Glue
Plastic rhinestones
Rainbow craft sticks
Scissors
Optional flower paper punch 2 in
Make an Easy Flower Craft for Kids
Step 1.
First, print out the flowers, leaves, and flowerpots outline template files on white card stock. You could also use colored cardstock for a quick craft. You need two flowerpots for each person.
Step 2.
Next, cut out flowers, leaves, and flowerpots. To hold the flowers leave a 1/4 in of white paper to fold under one the flowerpot.
Step 3.
Then, color the flowers, leaves, and flowerpots using the crayons. You could also use watercolors, markers, or colored pencils.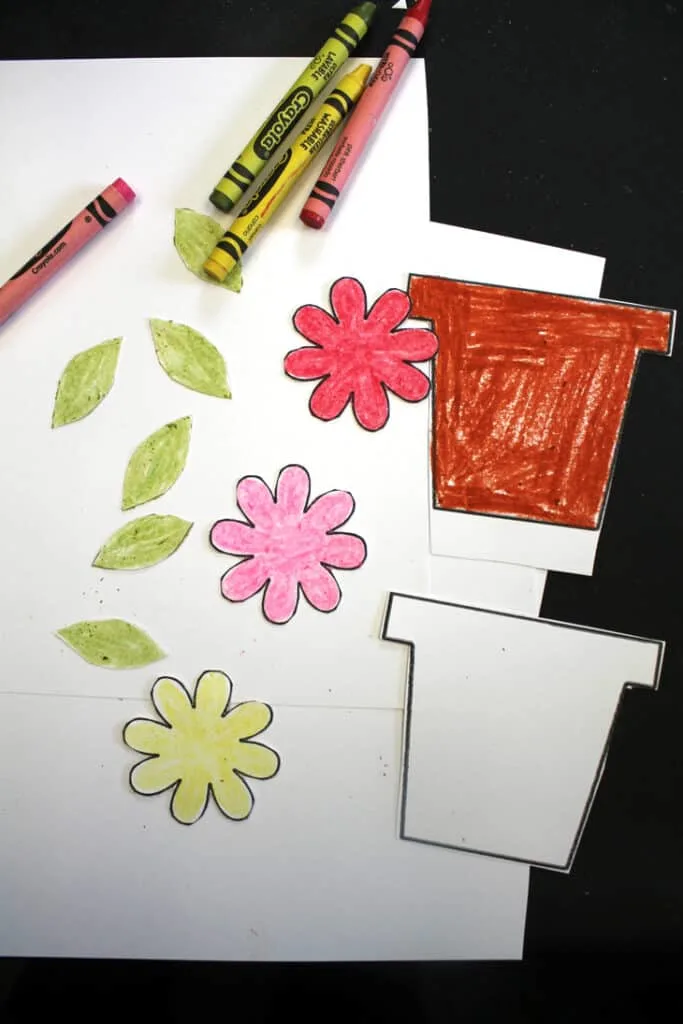 Step 4.
Next, glue 1 rhinestone to the center of each flower. Then glue the flower to the craft stick at the top. Fold the tab on the flowerpot. Then glue the two flowerpot pieces together on the 3 edges, leaving the top open. Let dry.
Step 5.
Finally, put the flowers into the flower pot. You could add this decoration to a card or make a larger picture or enjoy as is.
Free Printable Flower Craft for Kids Template Outlines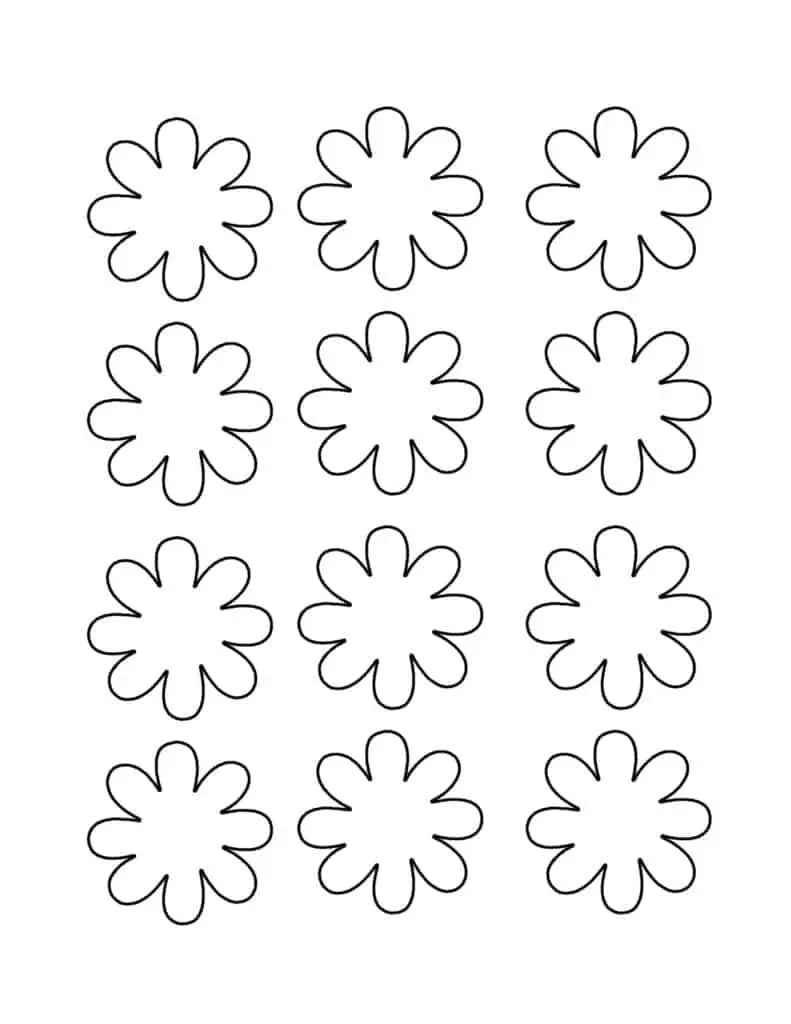 Flowerpot Craft Template Printable
Paper flowers are beautiful and easy to make. You can use this simple craft project to dress up a room, or for the letter F. This is a great activity for all ages of kids, too! All you need is some paper, scissors, crayons, and glue. Have fun crafting these pretty flowers today!
Pin for Later
More Fun Flower Crafts
More Spring Crafts for Kids