Looking to plan some winter books for kids? Winter is a great time for snowman, penguin, snow, snowflake, and other cold weather activities, from art, science, math and reading.
It is easy to add winter to all of your activities all month long. These activities are good for preschoolers and kindergarten but can be scaled up or down to fit your needs for toddler winter crafts.
Check out the the different snow, snowflake, winter, and snowman books. Any would be great for the winter months
Winter Crafts for Preschool
There are affiliate links in this post. I will receive a small commission if you purchase through these links at no additional cost to you.
Favorite Winter Books for Kids
by Sam McBratney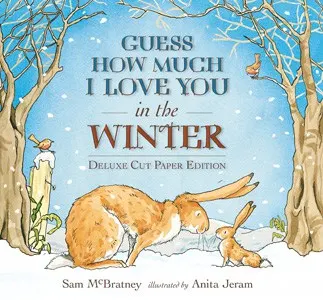 A truly beautifully finished child's book and one which will be treasured, I am sure. A perfect birthday gift or Christmas gift for a young child.
I am delighted with my copy.
by Karma Wilson
Review – This book is adorable! Each page has a rhyming verse, about 4 lines per page, with lots of alliteration and pictures that, like the cover, consume the whole page.
I've raised four babies of my own; taught school for 20 years; and now have my first grandchild, so I have read a great many board books, and I think this is one of the best.

Parents may be concerned that the text is too complex for a baby, who won't understand every single word here.
Don't be. Studies show that babies learn, not only from attaching specific words to specific items, but from the cadence, the lilt, the flow of the English language. Your tiny person just needs to hear your voice flow at a time when you aren't stressed or busy.

Perhaps best of all, the book is entertaining enough that if later on, your child returns to it as the "it" book, the read-it-again, every night request, you won't want to bang your head on a brick wall from the repetition. I
learned never to bring a book into my home for my kids if I wasn't ready to read it many, many times, and I can promise you, I would read this one happily. And I think you will too.
by Jan Brett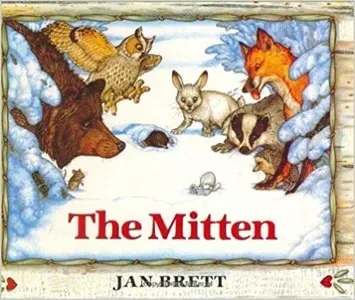 Review – This book is beautiful. The illustrations are ethereal and adorable. The story is sweet and old fashioned in a good way. It might be a long read for young children, but I think it's worth it.
It's not neutral colors and relaxing, I like that about books. It's not neon colors and flashy stories with no meaning, just to hold children's attention.
It uses some old fashioned terminology and language, but that's a good thing because I don't feel it panders to younger readers.
It's beautiful. Get the book!
Winter Theme for Preschooler -Snowmen Winter Books for Kids
by Caralyn Buehner
Review – Oh, what a beautiful book. The text is great for 3-to-6 or -7-year-olds, with a rhyming text full of action and mischief, but I admit it, «i bought it for the illustrations, by Markd Buehner. Caralyn Buehner wrote the text. I think I'll buy all their books.
The snow is deep blue, and lavender just like in real-life winter at dusk, the pages are full-colour vivid, I love this book. Your children will treasure it, even, I think, if they've never seen snow.
by Maureen Wright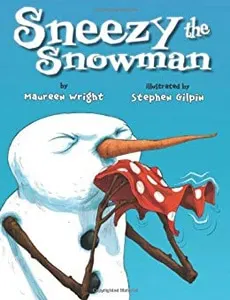 I am pretty picky when it comes to winter or Christmas books. Find books that focus a little less on Santa & more on love & kindness & the spirit of the season.
I really enjoy this one & the kids have a lot of fun with it too. I read this story along with a snowman game at my kids' preschool & 1st grade class parties this past year & it was a big hit with both age groups.
The kids like the fun repetition of the story & they like to do big exaggerated sneezes along with Sneezy.
I liked that the children in the story all share their things with Sneezy. One girl even gives Sneezy the coat off her back. So the kids get a fun story & mom gets to talk about the importance of giving. Win win!
by Yossi Lapid
Review "Buy this book! Cuz. People love to buy a snowman book. It is about snowmen and people and kids and doggies and snowman and house and beds. I have read this book lots of times."
Winter Theme for Preschooler -Snow Winter Books for Kids
by Lucille Colandro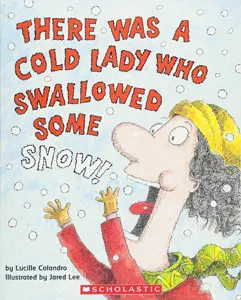 Review – LOVE-LOVE-LOVE Lucille Colandro " There was An Old Lady…" Collection-Series.

(And as you can see from my reviews, I am on my way to collecting them ALL!!!)

Children love these books too! The rhythm & rhyme adventures truly encourages my readers to read … And I must say … these books engage and fill my "struggling-readers" with pride!

Thank You Lucille Colandro for your Magic !!! ( Every Day is a Holiday at my after-school-reading-program. )
by H. A. Rey, Margaret Rey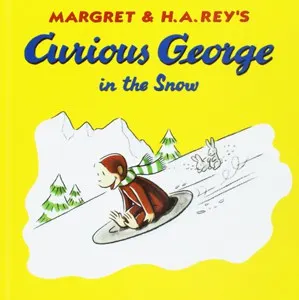 My daughter loves Curious George and I got this book last winter since she loves playing in the snow too.
George and the Man in the Yellow Hat go to a ski lodge and of course the man tells George to wait in one spot, but George doesn't.
He sees the skiers going down the slope and grabs a pizza pan and sleds down, causing the humorous monkey mischief we know and love.
The illustrations are colorful and fun with lots of details. If you're a Curious George fan, you'll love adding this one to your collection! We read it over and over again.
by Uri Shulevitz
Review – I am a preschool teacher and have loved reading this story to my students, especially during the first big snow of the year. The paintings are simple and interesting, as is the story itself.
Audio books are great for switching things up a bit during storytime, and they are also ways for the students to experience the stories themselves at a reading center.
I have found this particular story's audio reading to be very calming for my students
the reading by Sean Schemmel is very pleasant and quiet, as is the background music, complimenting the feel of softly falling snow covering the gray city in a blanket of white. A great purchase for a classroom or family library.
More Winter Books for Kids
Pin for Later
Winter Arts and Crafts for Kids
Other Christmas Crafts