Looking to crochet a pumpkin? Try one of these easy free chunky crochet pumpkin patterns that use bulky yarn.
The one I made is made out of chenille yarn. It is a free printable pattern. You can find the pattern by following the link and at the bottom is a printable pdf.
I make this pretty chunky fall blanket crochet pattern out of Bernat Blanket Yarn and had some left over and I turn it into this ribbed chenille pumpkin.
It is a large soft pumpkin. You could do it in traditional colors or a modern take on it in white, gray or tan.
This chunky crochet pumpkin pattern is fun to make with super bulky gauge 6 yarn.
It is an easy pumpkin pattern with only single crochet using a flat rectangle that you turn into a tube and then gather at both the top and bottom.
Try some of these other autumn crochet patterns: Crochet for Fall – 61 Colorful Patterns
Free Easy Chunky Crochet Pumpkin Patterns
Try this free printable pumpkin crochet pattern. The soft chunky crocheted chenille pumpkin is made from a ribbed rectangle. The crochet pattern is easy and fast.
This pattern is a great way to use up leftover Bernat Blanket Yarn. The pattern makes cute soft pumpkins.
The chunky pumpkin pattern is simple nd fast. You can make it in 30 minutes. This modern pumpkin would be a great addition to your fall décor.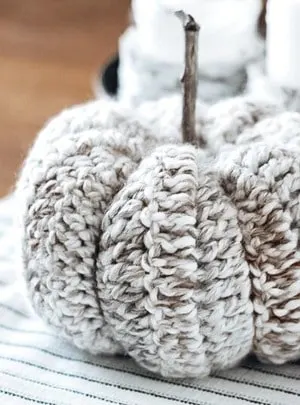 This crochet designer has a squash and farmhouse pumpkin pattern too.
There is a knit version of this pattern too.
There are 3 pumpkin patterns, chunky, plaid and farmhouse in this blog post.
Try some of these great fall décor pumpkin patterns. Choose your favorite colors and make a bunch to add to your fall decorating or to give as presents.
There are three different textures and sizes in this free bulky yarn pumpkin pattern. There is a free printable PDF available. Grab some yarn and make your own chunky pumpkins in your favorite colors.
More Free Chunky Pumpkin Patterns
Pin for Later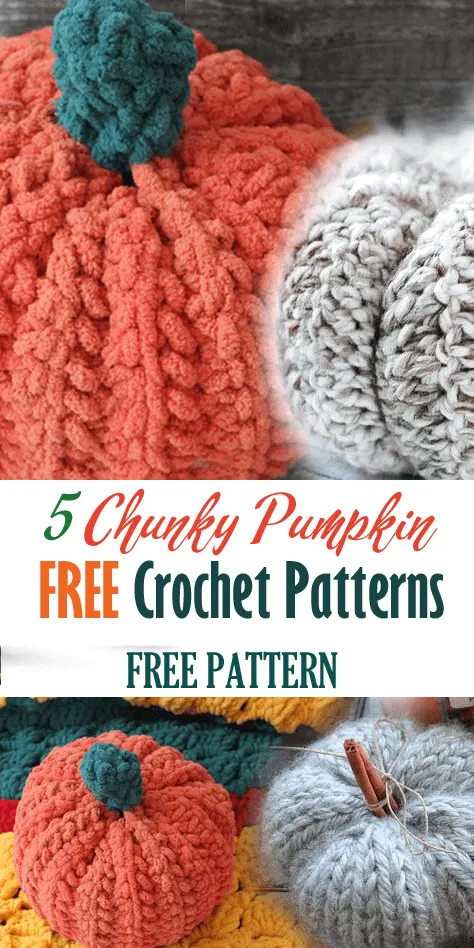 More Free Crochet Pumpkin Pattern
Free Crochet Patterns