Love knitting? Make one of these pretty knitting blanket patterns for wrapping up on the couch or a cozy gift. With different colors of yarn, these patterns would fit anyone's style.
Thinking about taking up a hobby and wonder whether you should try knitting or crochet? Is knitting or crochet easier? I think crochet is but both are fairly easy to learn.
There is lots of different videos and beginner patterns in both knitting and crochet.
Pin for Later
A great beginner project for either crochet or knitting is a dishcloth or headband. Try using the most basic stitches you learn and make one.
Looking for colorful stripes or a modern throw blanket knitting pattern, there are lots of different knitting patterns to try with lots of texture.
You can make cozy knitted throws with that look like fur or a rainbow afghan. Knitting patterns can be made in endless variations.
There are knitting patterns for worsted weight gauge 4 yarn as well as bulky yarn. A wide variety of patterns are available.
New to Knitting? Try these Tips
Choose from a lot of different knitting patterns. There are easy knitting throw blanket patterns and some more advanced.
There are affiliate links in this post. I will receive a small commission if you purchase through these links at no additional cost to you.
Knitting Blanket Patterns Free
Try this neutral textured chunky knit blanket pattern. It would look great with any décor.
Make a chunky knitted blanket. This designer has both knit and crochet patterns available for free on her blog.
This blanket is made with a soft squish wool yarn. That makes great chunky throw for your couch.
More Free Knit Blanket Patterns
Try Lionbrand.com or Yarnspirations.com
Pin for Later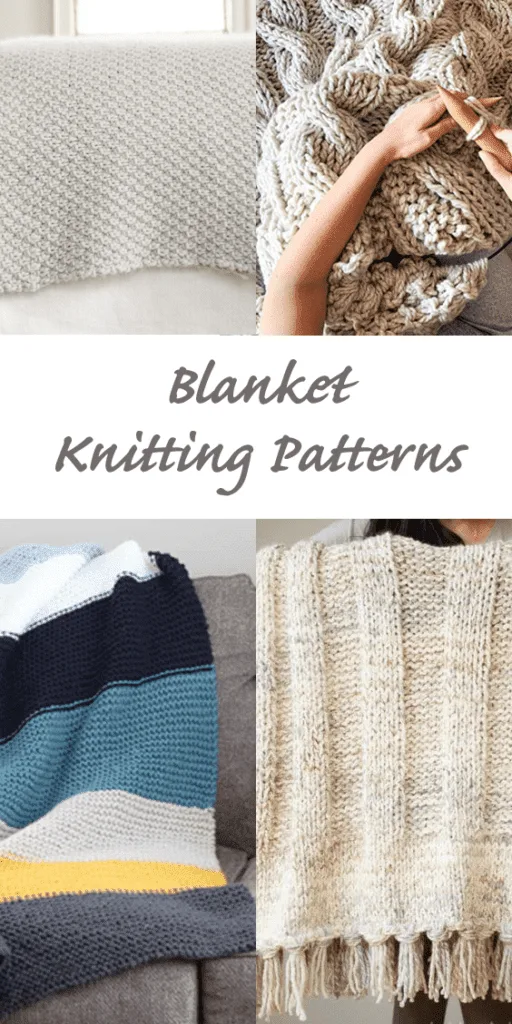 More Knitting Patterns
What to Try Crochet Patterns?