Make your own super soft minky baby blanket. Don't have any babies? Make a throw for your couch.
Before you are sewing check out Sewing With Minky Tips These tips will make it much easier.
Post contains affiliate links
Supplies:
1 yd of Minky Archer Cuddle(front) or fat half
1 yd of Minky Sky(back) or fat half
thread
straight pins
KK2000 Sulky Temporary spray adhesive (You can get it here)
sewing needle
Tools:
Ruler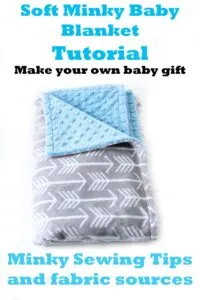 Sewing Machine
Directions:
Step 1.
Fold the front fabric in half and horizontally and match the edges. Cut with a rotary blade and ruler to 36 in if it isn't already. Repeat for back fabric.
Step 2.
Next lay the 2 fabrics with right faces together. After the fabric edges are matched. Lightly spray the temporary adhesive spray around the edges(Don't have any spray, use more pins and be careful when you sew).
Then pin about very 1 1/2 parallel to the edge far enough away from the edge so when you sew they will not be in the way of the machine about 1 in. Also, every few pins turn 1 perpendicular. Mark a opening 3 in for turning. This will be your start and stop point for sewing.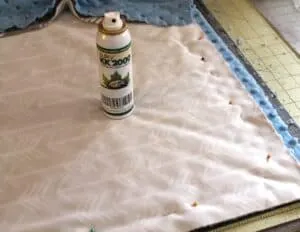 Step 3.
Now sew the 2 sides together using a 1/2 in allowance. Don't forget to back stitch at the being and end. You will want to use your left hand to feed the large part of the blanket and your right to carefully guide the fabric through making sure the fabric underneath has not moved.
Leave the horizontal pins until you are finished. Remove the perpendicular ones as you sew. You do not want to sew over them. Remove all the pins when you are finished
Step 4.
Next trim the corners at diagonal making sure not to cut the thread. Trim the blanket any where else the edges to do match. Turn the blanket right side out through the hold you left making sure to get the corners completely turned.
Pin the opening close with straight pins. You want the folded edges to line up with the already sewn part. Use blinding stitch to sew it closed.
Step 5.
Last step is to top stitch it. Make sure the edge is lined up. I use 5/8 in allowance. Remember to to back stitch when you stop and start. Sew around the entire blanket. Finished.
Create your own soft blanket today!