I love that it is warm enough to go outside and play more often. It also helps with my sanity and runs off some of that energy my toddler has. Nature kids crafts are great inexpensive and quick to do.
I remember doing an ABC nature walk when I was a kid. You get a bag and you try to a item for each letter of the alphabet on a nature walk. Have fun making a nature kids craft and enjoying the sunshine. Take pretty flower petals and leaves and create beautiful artwork.
Nature Kids Craft – Preschool Theme
Collect some nature items and create a colorful tee.
Create some fun colorful art with items from your backyard.
Make some fun ladybug out of rocks or let your imagine go and create whatever you can think of.
Go get muddy and have fun, every kid should get to play in the mud. My daughter loves to play in the dirt and water so I am sure she will love this and be covered head to toe in mud.
I love the colors used in this project bright like spring.
A fun process art painting, take some flower and have fun.
Share your favorite nature kids craft below.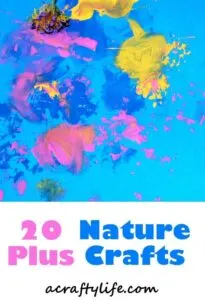 MORE SPRING CRAFTS, FUN & BRIGHT FOR ALL AGES