Looking for a fun and easy Christmas craft to do with your kids? Then check out this paper plate penguin ornament idea!
This penguin craft project is simple enough for children of all ages to complete, and the results are adorable. Keep reading for instructions on how to make your own penguin ornaments.
This craft uses markers and small paper plates. Pair a Christmas craft with some Christmas books, for reading practice and arts and crafts together.
Looking for more fun Christmas crafts? I made a cute wood reindeer ornament and easy tin foil Christmas ornament. and fun fingerprint Christmas tree craft.
There are lots of other Christmas crafts to try also, Christmas trees, Reindeer Crafts, Angel Crafts, Christmas Ornaments, and Christmas Wreathes.
There are affiliate links in this post. I will receive a small commission if you purchase through these links at no additional cost to you.
How to Make an Easy Paper Plate Penguin Christmas Ornament Craft for Kids
Supplies
safety scissors
small paper plates
black construction paper (small amount needed)
glue stick
pencil
markers, colored pencils, crayons or paint
yarn or ribbon to hang the ornament
Step 1.
First, color the outside ring of the plate black. Add a downward triangle towards the center top.
Next, add the eyes and beak.
Step 2.
Then, cut 4 small rectangles out of the white paper about .5 inch x 1 inch. Color 2 of the rectangles orange and 2 black.
Next, trim the black rectangles on one end to be rounded. Trim the orange rectangles to have round edges on the wide side and 2 little triangle to make the feet.
Cut a semi circle for a hat and decorate it. I chose stripes.
Step 3.
Next, glue the feet to the bottom of the penguin. Then, glue the wings to the sides. That hat gets glued to the top. I added a piece of cotton ball for a pompom.
Step 4.
Finally, make a loop with the white yarn and glue it to the back of the penguin.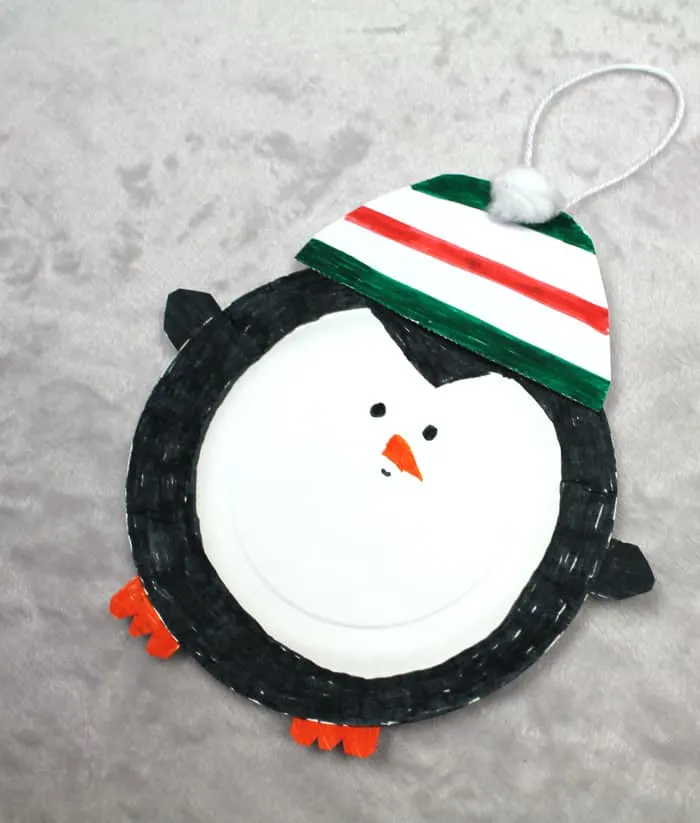 What other cute Christmas ornaments could you make from a paper plate?
Fun Paper Plate Santa Christmas Ornament Craft, Cute Paper Plate Gingerbread Man Christmas Ornament Craft, or Easy Paper Snowman Ornament Craft for Kids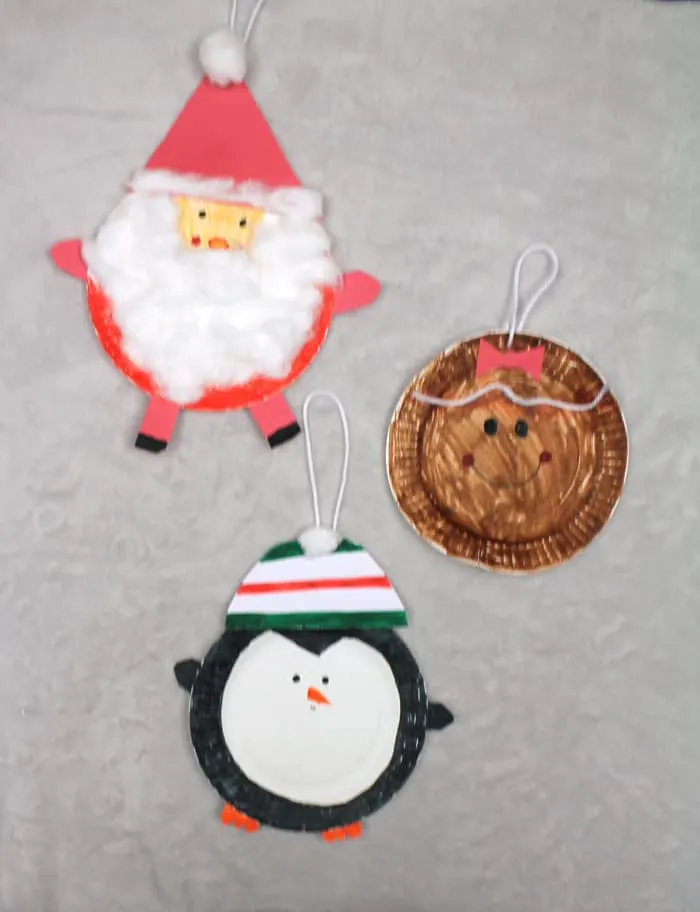 More Penguin Crafts for Kids
Christmas Crafts with Kids
Winter Crafts with Kids
Pin for Later