We always get poinsettias from the local nursery at Christmas time. I love the pretty vibrant colors. I thought now would be a great time to make a paper poinsettia craft for kids.
This easy craft has a free printable template you can print out and color or use to trace on colored paper. This craft just needs paper and a few supplies.
You can pair this easy Christmas flower craft with a book about how poinsettias became Christmas flowers. It works well to pair a story and a craft together.
I made a tin foil Christmas ornament , painted paper plate ornament, and a paper plate Christmas ornament.
Try these fun and easy to make Christmas ornament crafts. I gathered a bunch of Christmas ornament crafts too.
There are affiliate links in this post. I will receive a small commission if you purchase through these links at no additional cost to you.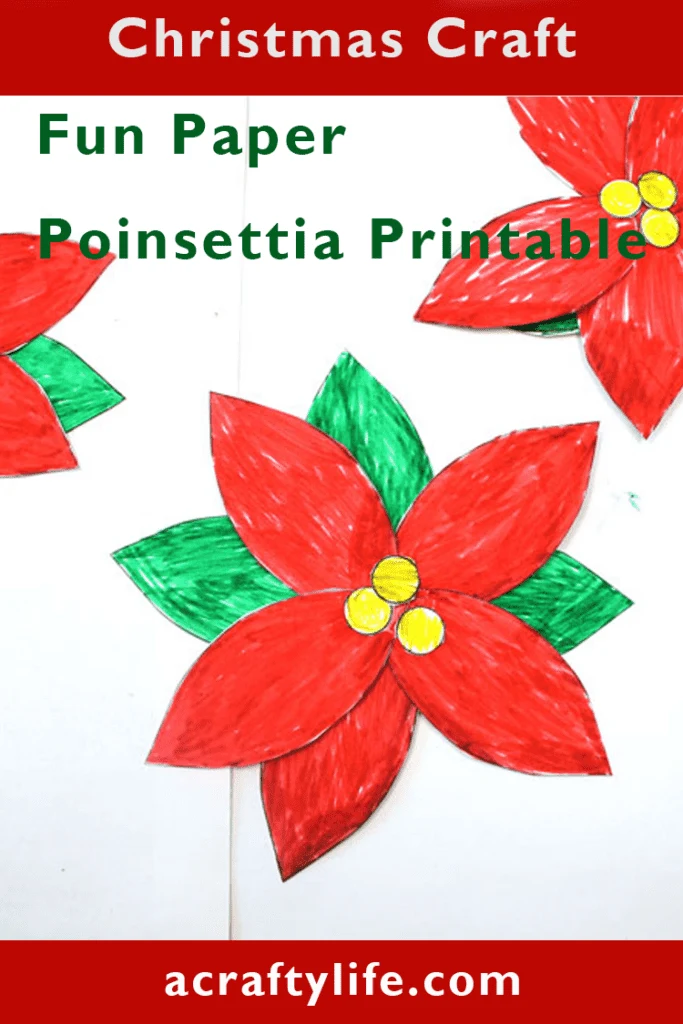 Easy Paper Star Christmas Ornament Craft for Kids – Printable PDF
Supplies
red, green, and yellow makers
scissors (safety scissors for kids)
white card stock or black construction paper
glue
How to Make a Paper Poinsettia Craft for Kids – Printable PDF Template
Step 1.
First, print out poinsettia template PDF on white card stock.
Step 2.
Next, color the petals and small circles. Color 5 petals red, 3 petals green, and the circles yellow. If using construction paper, trace the pieces.
Step 3.
Then, cut the petals out.
Step 4.
First, glue the 3 green petals together. Next, glue 5 red petals together. After that, glue the red petals on top of the green petals. Finally, glue the yellow circles to the center of the red petals of your paper poinsettia craft.
Pin for Later
More Fun Christmas Ornament Crafts to Try
More Fun Christmas Crafts with Kids
Winter Crafts with Kids