I remember creating shape pictures when I was in school. Combine shape kid crafts and math for these fun projects.
Create and learn about squares, rectangles, circles, hearts and more. There are even some fall crafts. Have fun making these shape kids crafts.
Shape Kid Crafts – Fun Craft
Have fun making a house out of different shapes. Add some trees and other details for more creativity.
A fun tie dye craft for Valentine's Day or anytime you want to make some colorful hearts.
A cute back to school shape craft.
Create a colorful heart print.
Make all kinds of mathematical trees
Make a fun turkey out of shapes.
Make this cute robot craft out of shapes made of paper.
Use different shapes to make a cute fox.
Make a colorful paper owl craft using different shapes.
Make a backhoe of of different shapes and paper.
Have fun making a cityscape out of different colorful shapes.
Make different dinosaurs out of shapes, a great way to use your imagination.
Make a fun pizza craft and learn different shapes.
Make this fun back to school craft out of a paper plate and paper shapes.
Cut of different shapes out of paper plates and wrap with yarn.
Pin for later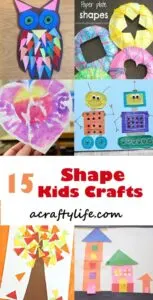 MORE KID CRAFTS, FUN & BRIGHT FOR ALL AGES