I have been working on some Christmas crafts. I made a cute DIY wood reindeer ornament handmade craft . Next, I am going to make a fun toilet paper roll Christmas tree craft for kids using common household supplies.
I like making Christmas crafts with supplies that are easy to get or household supplies you already have. There are always more paper rolls available.
You can make a fun and colorful Christmas tree. If you don't celebrate Christmas or need a winter craft, you can make evergreen with snow instead.
I made a fingerprint Christmas tree craft and a tissue paper suncatcher Christmas tree craft. Try either one both are fun and easy to make. I gathered a bunch of Christmas Tree Crafts too.
Pair with a Christmas book for reading and creating fun with your Christmas tree craft project. We like this book, Pete the Cat Saves Christmas.
There are affiliate links in this post. I will receive a small commission if you purchase through these links at no additional cost to you.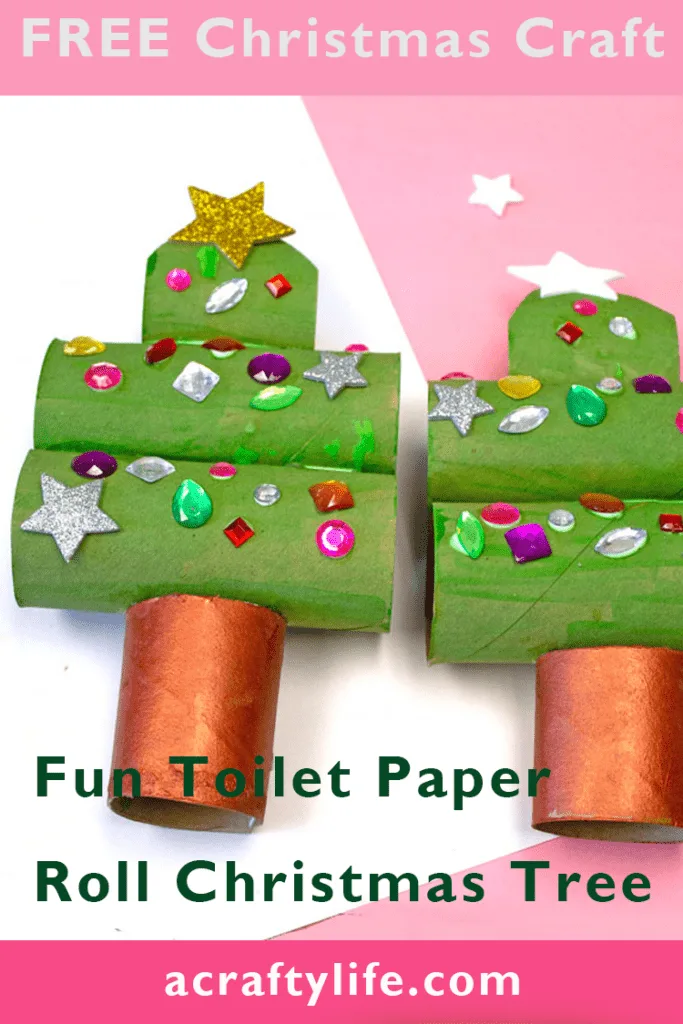 Toilet Paper Roll Christmas Tree Craft for Kids
Supplies
4 toilet paper rolls
Green and brown paint
paintbrush
glue
scissors
plastic gems
plate or paint tray
glitter star stickers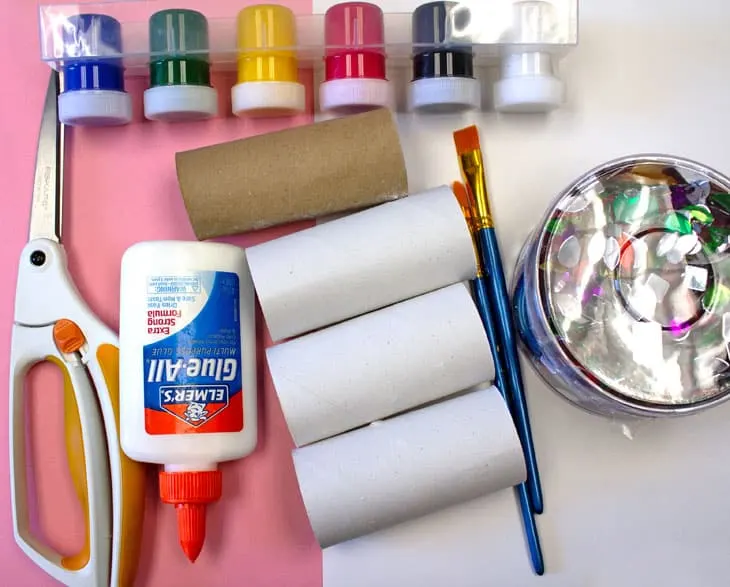 How to Make a Toilet Paper Roll Christmas Tree Craft for Kids
Step 1.
Paint the 3 toilet paper rolls green. On the 4th paper roll, paint half of the roll green and half brown. I made two trees at one time, so I painted one whole roll all copper.
I didn't have any brown paint available. You can make brown by mixing complimentary colors like red and green. Let paint dry.
Step 2.
Next, cut the brown and green roll in half with a pair of scissors. Cutting paper rolls can be difficult, you might want to cut them for your kids depending on skill level and age.
Cut both edges of the green section at a diagonal to make a triangle without cutting through the whole roll.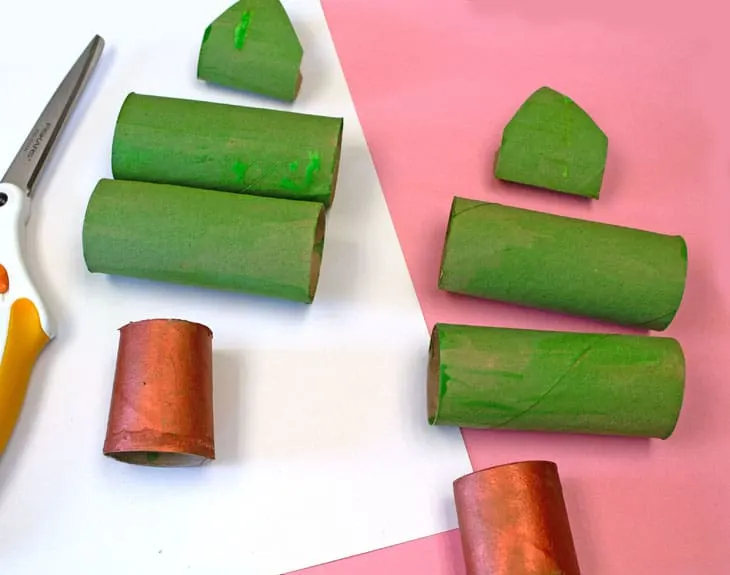 Step 3.
Then, glue all 4 toilet paper rolls together horizontally. Then attach the trunk to the bottom of one of the long rolls. Hold each roll together until it starts to stick before you try going on to the next. Let the Christmas tree dry.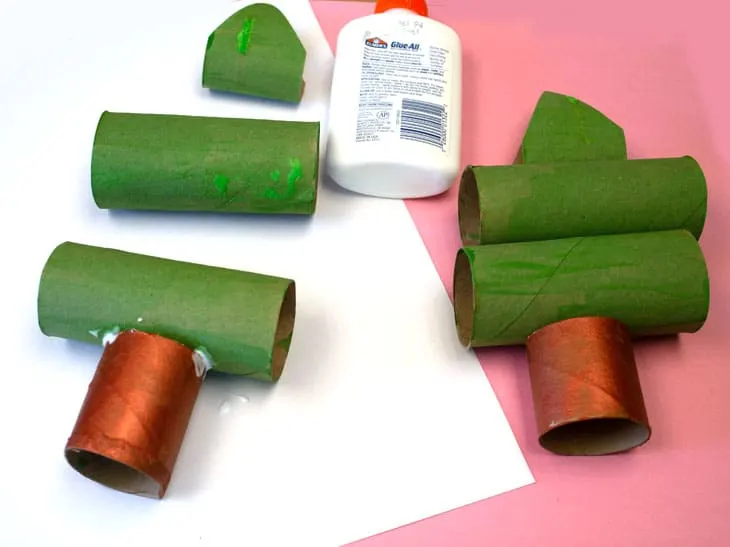 Step 4.
Finally, decorate your toilet paper roll Christmas tree with plastic gems, sequins, stickers, or colorful dabs of paint. Let dry.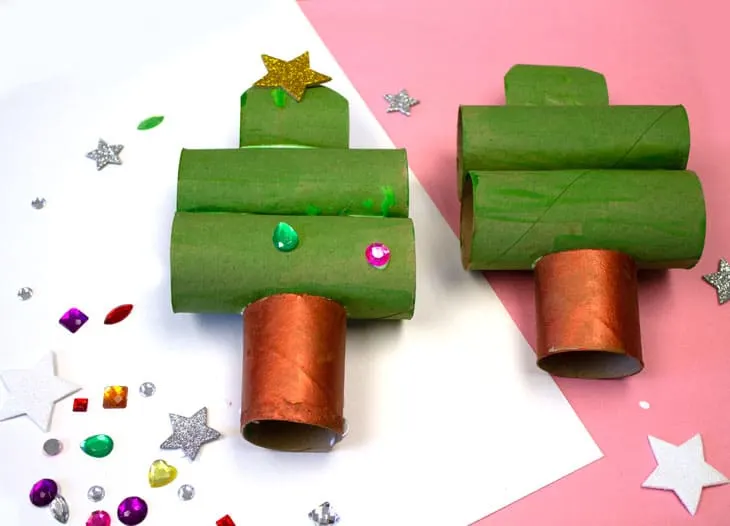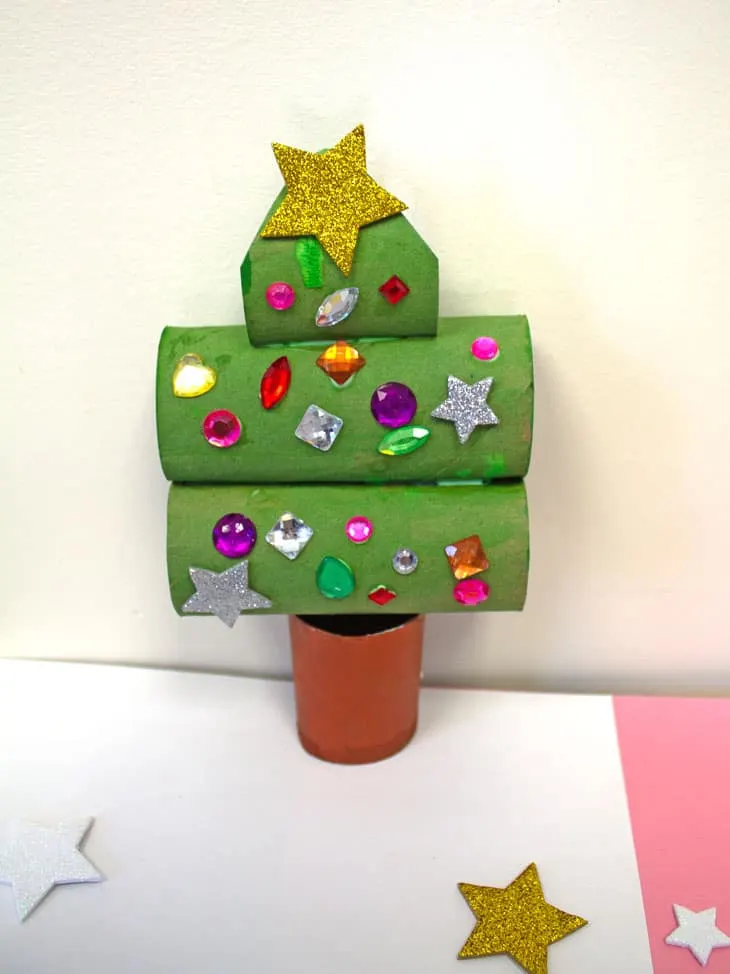 More Fun Christmas Tree Crafts for Kids
More Fun Christmas Crafts with Kids
Winter Crafts with Kids
Pin for Later