Looking for a cute baby shower gift? Make some cute crocheted baby shoes with this collection of summer baby shoes crochet patterns. Make up several in different colors and styles. Great for small amounts of yarn.
These summer baby booties could be the perfect addition to your baby gift. Make a perfect pair for your new arrival. Sandals aren't just for girls. There are some cute boy baby sandal versions too.
Looking for other adorable baby booties crochet patterns? Try these cute baby shoes, more baby sandals, and baby boot patterns.
Affiliate link are in this post. I receive a small commission if you purchase through these links at no cost to you.
Summer Baby Shoes Crochet Patterns
Great, clear instructions! Beautifully laid out.
Make a cute pair of baby flip flops, great for either a boy or girl.
Love this pattern so much! Easy to follow and works up super quick!!
So cute! Can hardly wait to make them! And included a free pattern…quite unexpected but much appreciated!
You will get several different designs to try in this pattern. This designer has other cute baby booties patterns to try.
Pattern was very easy follow.
So cute!!! These were a big hit! Everyone I have made them for has been super impressed
This designer has lots of other cute baby crochet patterns to try.
I am so happy I found this shop! This is the first pattern I've purchased, and I'm so impressed with the level of detail, helpful hints, and instructional photos included in the pattern. Customer service has also been wonderful! Thank you!
This designer has lots of cute baby sandal crochet patterns for you to try.
Make a cute pair of striped crocheted baby sandals, cute for a boy or girl.
Very nice pattern – easy to follow & understand & the photo tutorials are a nice bonus!
I also appreciate the explanation of special stitches & all of the tips – that extra effort is what makes this pattern one of my favorites. Many thanks!
A very good pattern. Great explained and very easy to follow. I'm sure I'll buy some more from the same seller!!!
I love this pattern it's simple and easy to read the color options are endless and fun i put 2 flowers on the 0-6m BC I use cotton yarn and the flowers came out bigger than expected but I love it! Thank you for sharing this pattern!!
I loved this pattern! It was easy to follow and loved how the sandals came out.
These are absolutely adorable. The directions were easy to read and follow. I have been experimenting with different yarns and threads. With a few adjustments, it is working out beautifully.
Another adorable pattern. I hope to crochet these little sandals for my granddaughter. Great experience, as I was able to download this pattern very easily.
Pattern is very clear and easy to make. There so cute!
Love this pattern it turned out great! Highly recommend received a lot of positive comments!
Beautiful easy to understand pattern. I have purchased a couple of patterns from Showroom Crochet and the patterns are great!!
This designer has a bunch of cute crochet baby booties patterns for you to try.
Easy to follow. Great pattern.
Great Pattern! I spend a lot of time making these as they were my first crochet shoes ever- but the pattern was easy to follow and the photos were very helpful. Thank you!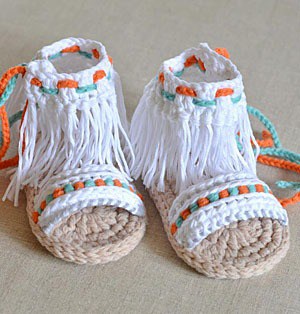 So I'm a super noob but I love the pattern its pretty easy once you get the hang of it. Great price too. I can't wait to finish.
Make a fun pair of boho baby booties. This designer has other cute baby shoes crochet patterns for you to try.
Pin for Later
More Baby Shoes Crochet Patterns – Free
More DIY Baby Gifts
More Crochet Patterns