You're looking for some fun and easy DIY projects to do at home. Then making your own bracelets is the perfect place to start. Not only are these bracelets a fun way to add some personality to your style they are easy bracelet patterns to make.
That's why I've put together this article featuring 7 bracelet patterns that are easy to make, so you can get started on your own bracelet-making journey.
Whether you're an experienced crafter or just starting out, these patterns are perfect. From simple beaded bracelets to more complex designs, there's a pattern for everyone. Plus, most of them require minimal tools and materials, so you can get started right away.
In this article, I'll provide step-by-step instructions for some bracelet patterns, as well as suggestions for different materials and customization options.
Whether you prefer beads, leather, embroidery floss, or even recycled materials, there's a bracelet pattern here for you. So get ready to unleash your inner creativity and make some beautiful bracelets that you'll love to wear or give as gifts.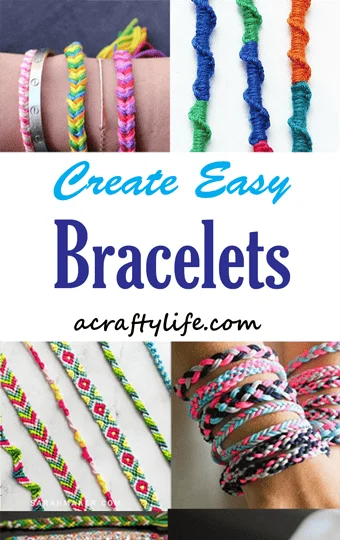 Fun Bracelet Patterns That Are Easy to Make
Make this chevron friendship bracelet with this thread bracelet how to. There are lots of different DIY Friendship Bracelet Ideas on this blog.
This type of woven friendship bracelet is made out of embroidery thread or string. This is a popular type of string bracelet. I made many of these as a kid and with youth programs.
There are many thread friendship bracelet type tutorials in this blog post: candy stripe, chevron ( 4 colors), and diamond. There several different type string bracelet variations shown here.
Make a string bracelet with this how to. This tutorial shows you how to make a thread friendship bracelet with an added metal link to the bracelet. This blog has lots of other DIY bracelets patterns to try.
This friendship bracelet type how to shows you lots of different ways to make braided bracelets. This is another type of friendship bracelet make out of thin cord.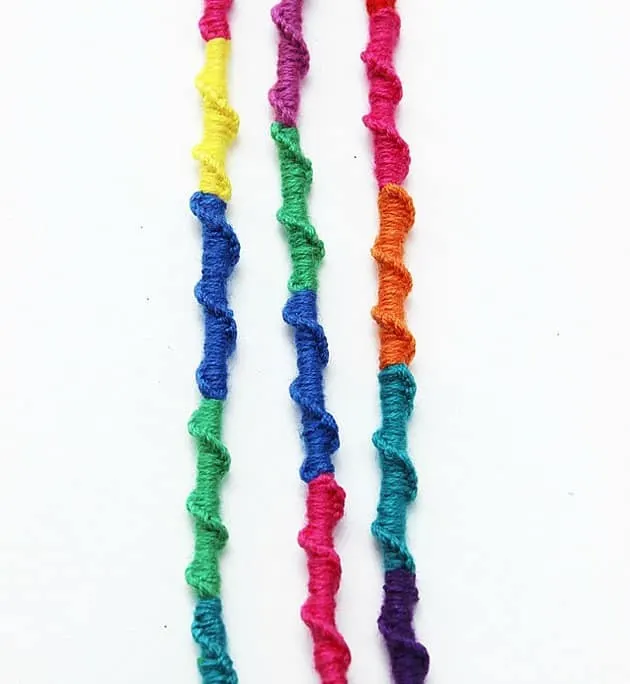 Try this different type of friendship bracelet the Chinese ladder or step. This is an easy string bracelet to try. You just tie a know around the other colors and repeat.
This DIY bracelet tutorial shows you how to do this. This thread or string bracelet would be a great way to entertain your kids over the summer. It is an inexpensive and easy string bracelet to make.
Try this string friendship bracelet how to and make a fishtail braid bracelet. Try this different type of friendship bracelet in all kinds of pretty color combinations. Try this type of string bracelet the fishtail
Bracelet Patterns That Are Easy to Make
Here are some more unique and easy-to-make bracelet patterns that you might find interesting:
7. Pom Pom Bracelet: Use colorful pom poms to create a fun and playful bracelet. Simply string the pom poms onto a piece of elastic cord and tie a knot.

8. Beaded Wrap Bracelet: Use beads and leather cord to create a stylish wrap bracelet. Start by threading a needle with the cord. Then add beads in a pattern before wrapping the bracelet around your wrist and tying a knot.

9. Bottle Cap Bracelet: Collect bottle caps and paint them in bright colors. Then, punch holes in the tops of the caps. String them onto cord or ribbon to create a unique and eco-friendly bracelet.

10. Braided Hemp Bracelet: Use hemp cord to create a simple yet stylish braided bracelet. Start by knotting three strands together at one end. Then braid the strands together before securing the other end with another knot.

11. Ribbon and Chain Bracelet: Combine ribbon and chain to create a chic and feminine bracelet. Thread ribbon through the links of a chain. Then tie the ends of the ribbon together in a bow.

These bracelet patterns are easy to make and require minimal supplies, making them perfect for DIY enthusiasts of all skill levels. So why not try making your own unique bracelet today?