Are you looking for a fun and educational activity to engage your preschooler? Look no further! We have created a printable template for the letter D.
This activity is not only entertaining but also helps children develop their fine motor skills and learn about letter recognition.
The printable template provides a visual guide, allowing children to follow the dots and trace the letter D with ease.
The template is simple and easy to use, making it perfect for young learners. All you need is some paper, markers or crayons, and a little bit of creativity!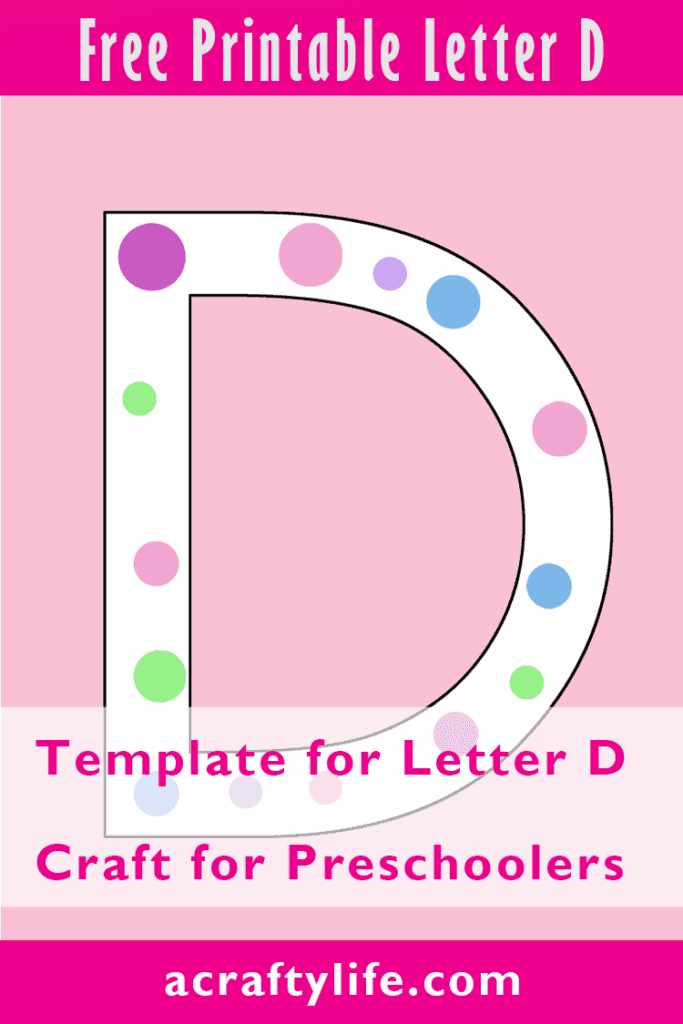 Not only does this activity help children practice their writing skills, but it also introduces them to the letter D and its sound.
As they complete the dots craft, they can also brainstorm words that start with the letter D, enhancing their vocabulary and phonemic awareness.
So, why not engage your preschooler in a fun and interactive learning experience? Download our printable template for the letter D and get ready for some creative exploration.
Watch as your child's confidence and enthusiasm for learning grow while they enjoy this engaging preschool dots craft. Let's dive into the world of letters together!
More Letter Alphabet Resources, Template Printables and Letter Crafts
The preschool room I worked in did 2 craft activities a day and one recipe a week. The kids loved to cook and eat what they made. There were always lots of books different books for each week's theme.
We played games and did physical activities around the letters too. ABCs Yoga for Kids was always a favorite.
This post contains affiliate links. I earn a commission if you purchase items through the links.
Make a Dots Craft With the Template for Letter D
Supplies
white cardstock
scissors
crayons, markers, tempera paint, colored pencils or watercolors
paint brush if need
water if needed
construction paper
glue if need
How to Make a Letter D for Dots Craft for Preschool Using a Template
Step 1.
Print out the letter D PDF. Let dry for a few minutes.
Step 2.
Using your favorite media like crayons, markers or watercolors make dots of all different sizes and colors on your letter D. Let dry.
You could cut out circles of different sizes and glue them to the letter for dots. Stickers would be another idea.
Step 3.
Cut out your letter D. Talk about the different works that start with the letter D like: dots, dogs, donut.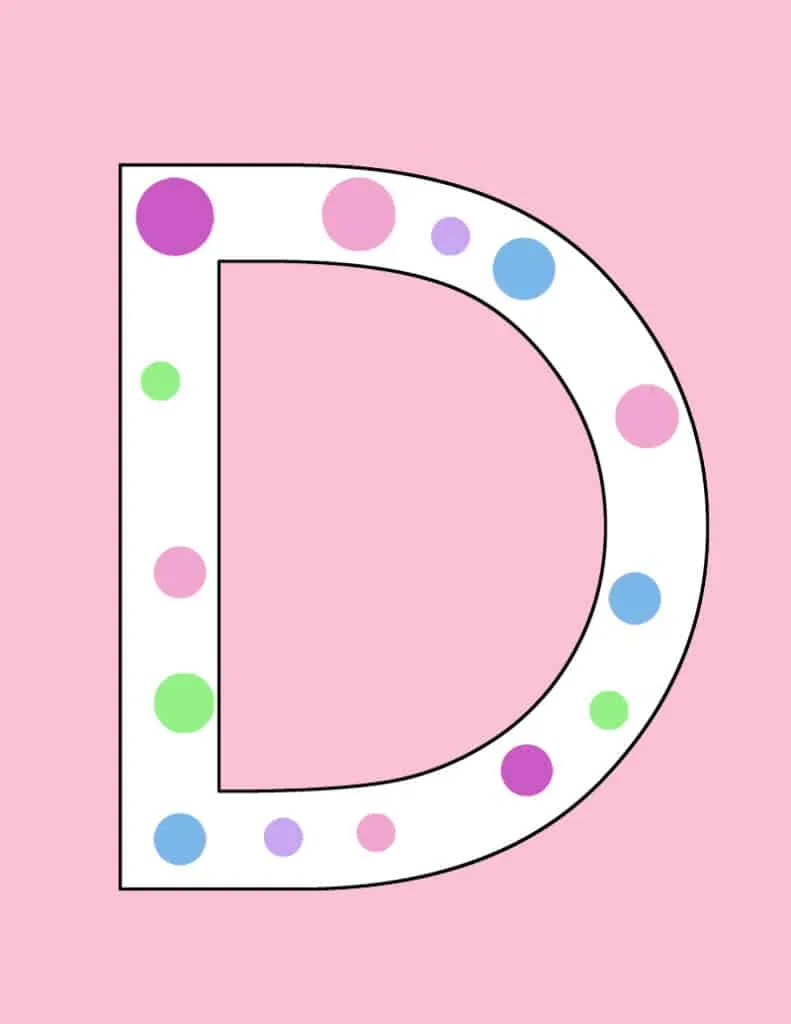 You can also to do the same thing with diagonal lines. Show them what a diagonal line looks like and then have them color, paint or glue strips of colorful pattern to the letter.
As a versatile tool, our printable template for the letter D can be used in various settings, whether it's at home, in the classroom, or during homeschooling activities. It offers an enjoyable and hands-on learning experience that promotes both cognitive and physical development.
So, download our printable template, gather the necessary materials, and embark on a delightful journey of learning and creativity with your preschooler. Watch as they take pride in their completed dots craft and gain confidence in their early literacy skills.
With this easy-to-use resource, you can make learning the letter D an engaging and memorable experience. Let the dots guide your child's imagination and set them up for a lifetime of learning success!
Other Crafts for the Letter D
More Free Letter D printable Worksheets for Preschoolers
Other Preschool Activities
MORE SPRING CRAFTS, FUN & BRIGHT FOR ALL AGES