What grandmother doesn't love a handmade Valentine's Day gift. We are going to make these tissue paper flowers. This How to Make Tissue Paper Flower Craft is an easy inexpensive flower craft.
Create a beautiful tissue paper flower craft with your own two hands! This simple craft is great for kids of all ages and only requires a few materials.
Whether you're looking for a fun family activity, something to brighten up your home décor, or just something to give away as a gift, this tissue paper flower craft is the perfect choice.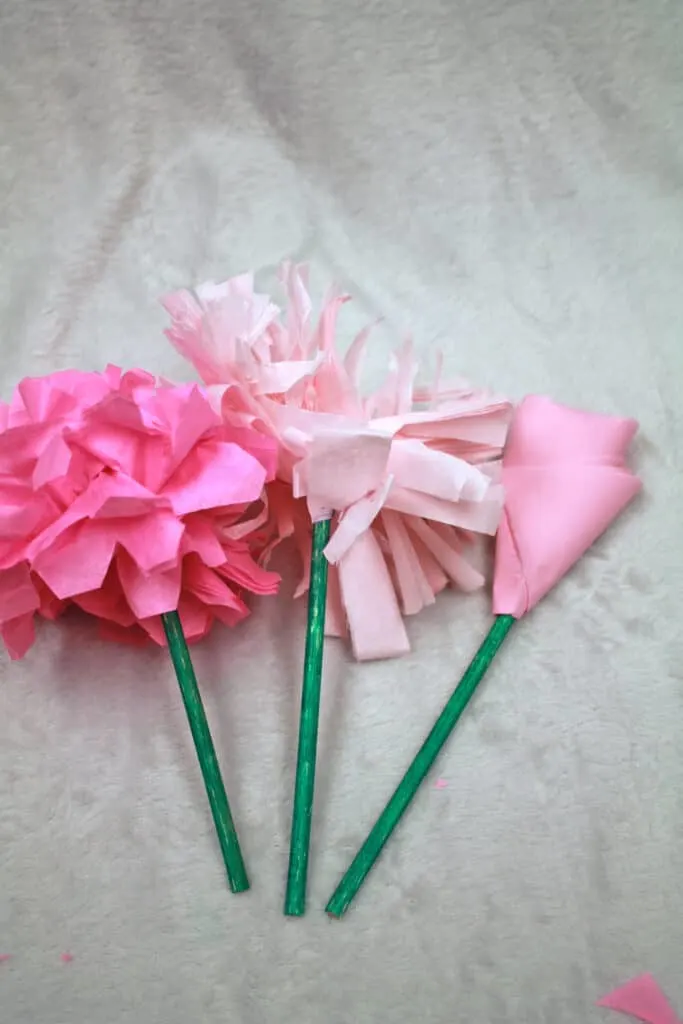 With just a few steps, you can make your very own tissue paper flower that's sure to bring a smile to anyone's face.
Pair this How to Make a Tissue Paper Flower craft with some Valentine's Day books for crafting and reading together.
Looking for other ideas free printable Valentine cards, printable heart Valentine's Day card, heart kid crafts, Valentine's Day Crafts and Valentine card crafts?
There are affiliate links in this post. I will receive a small commission if you purchase through these links at no additional cost to you.
ImageUpload an image file, pick one from your media library, or add one with a URL.UploadSelect ImageInsert from URL
How to Make a Tissue Paper Flower Craft for Kids
You can use this craft to make a gift for Valentine's Day, Mother's Day or a birthday gift.
Supplies
scissors
tissue paper in several colors
white twist ties
6 in wooden dowels
green marker
glue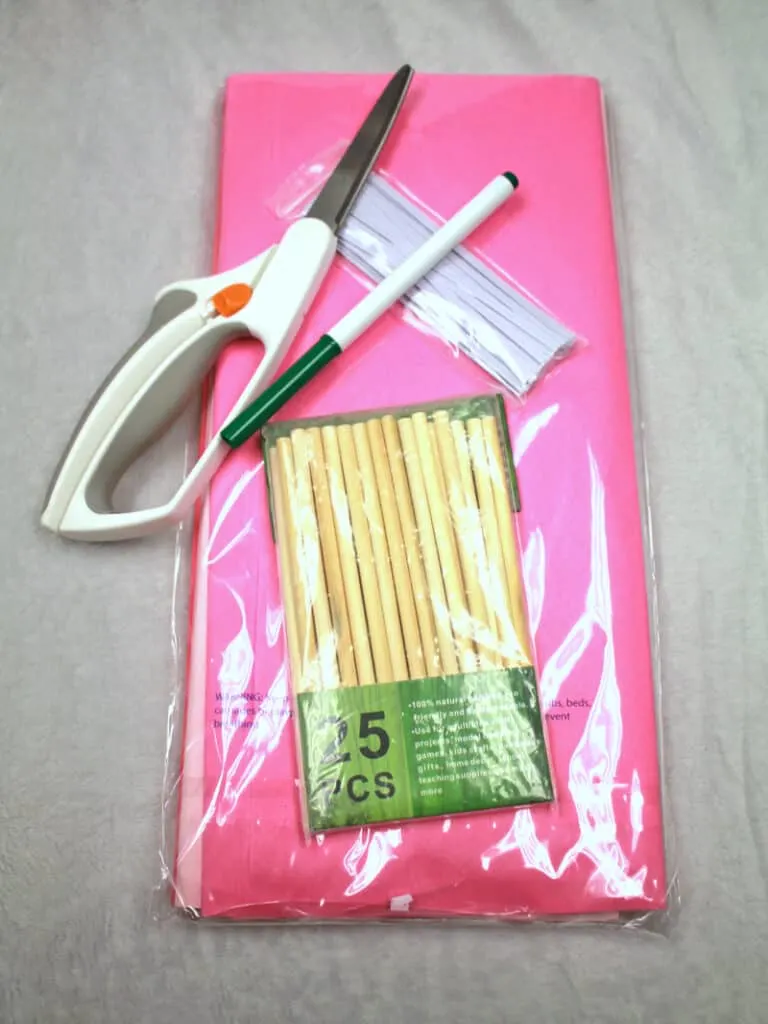 Step 1. How to Make a Tissue Paper Flower
Color the wooden dowels with the green marker to make stems. Hold on to the plain wood and color the other end and then switch.
You could also you green acrylic paint and a brush. Let dry before attaching the flower.
Step 2.
Cut the tissue paper into a 6 in strip with 6 layers. Cut the strip into a square.
Step 3.
Fold the paper back in forth, like you are making a fan.
Cut the end to a point or a curve. You can also make narrow straight cuts.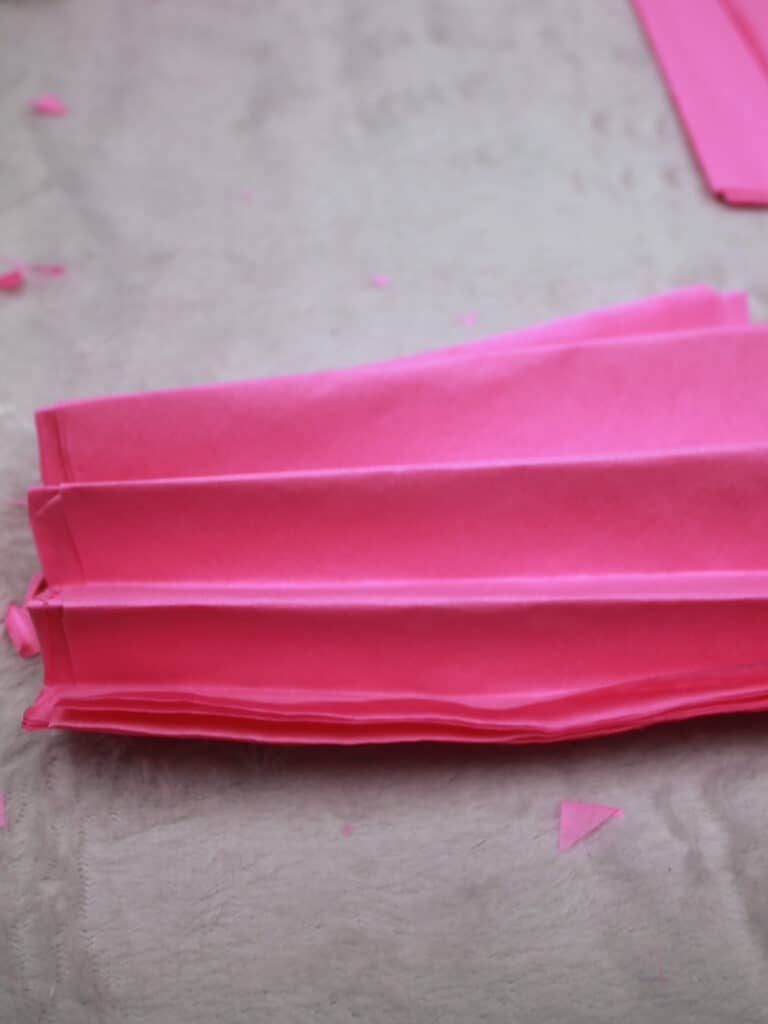 Twist a white tie around the middle of the folded tissue paper.
Step 4.
Carefully take the layers of tissue paper and separate them.
Follow the flower and use the twist tie to attach it to the flower.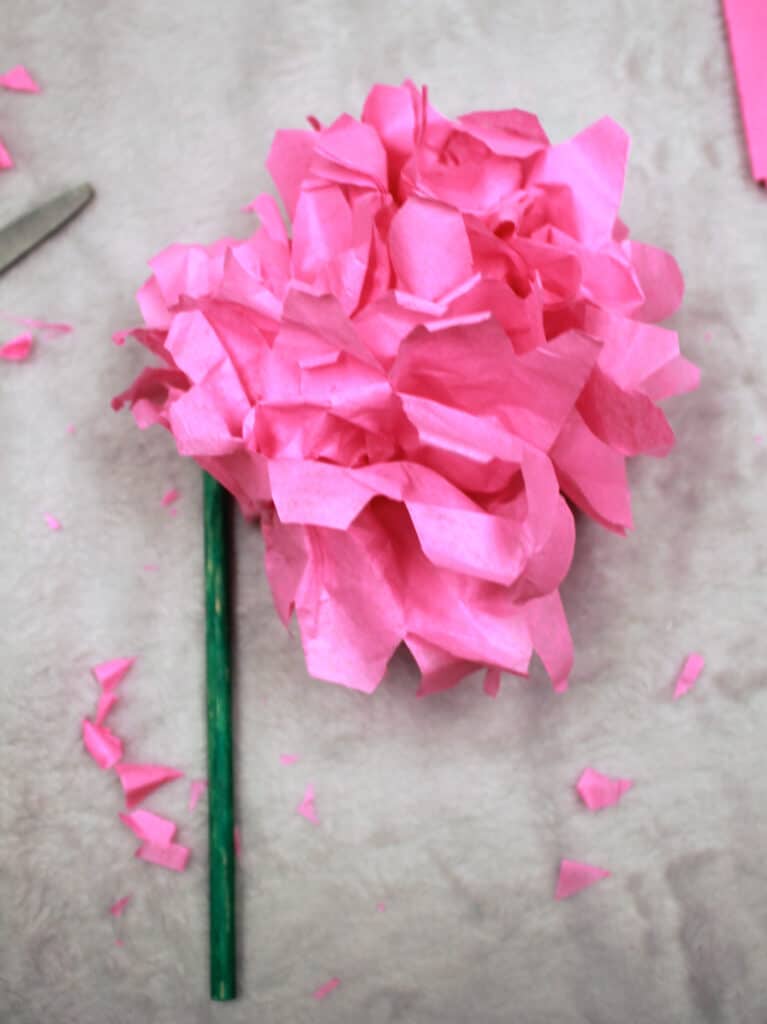 Step 5.
Cut a 6 in circle. Fold the circle in half and fold it around the stem. Put glue on the stem and the outer edge. Hold for 1 minute. Let dry.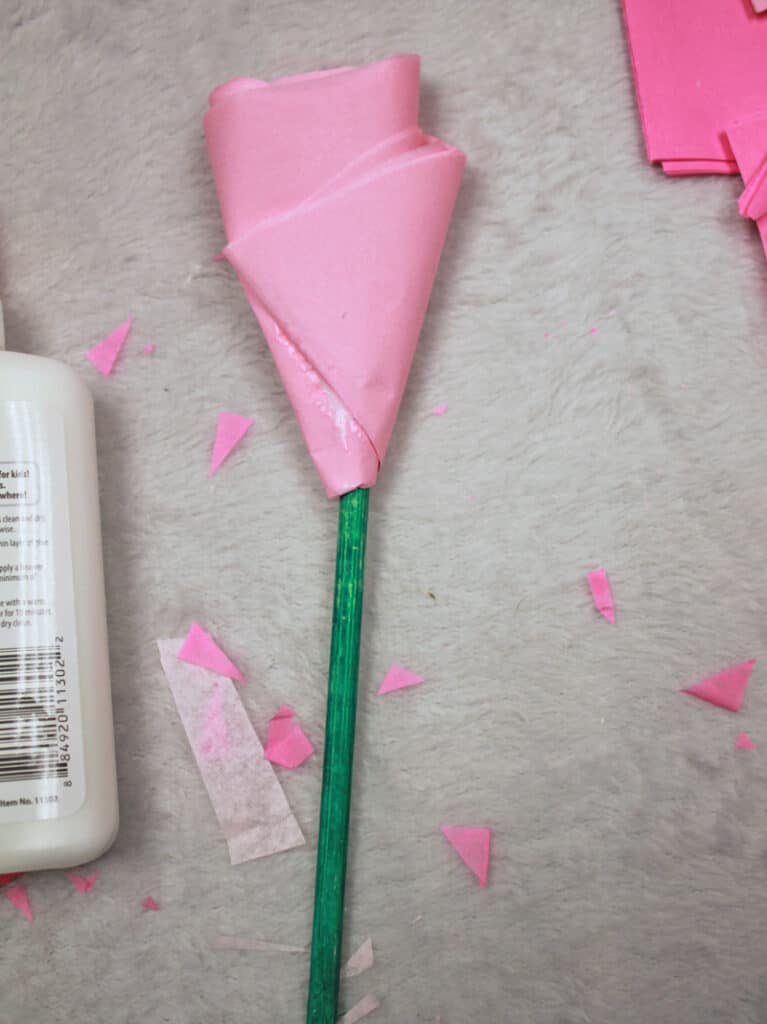 Enjoy your tissue flowers. You can try this tissue paper how to, to make larger flowers.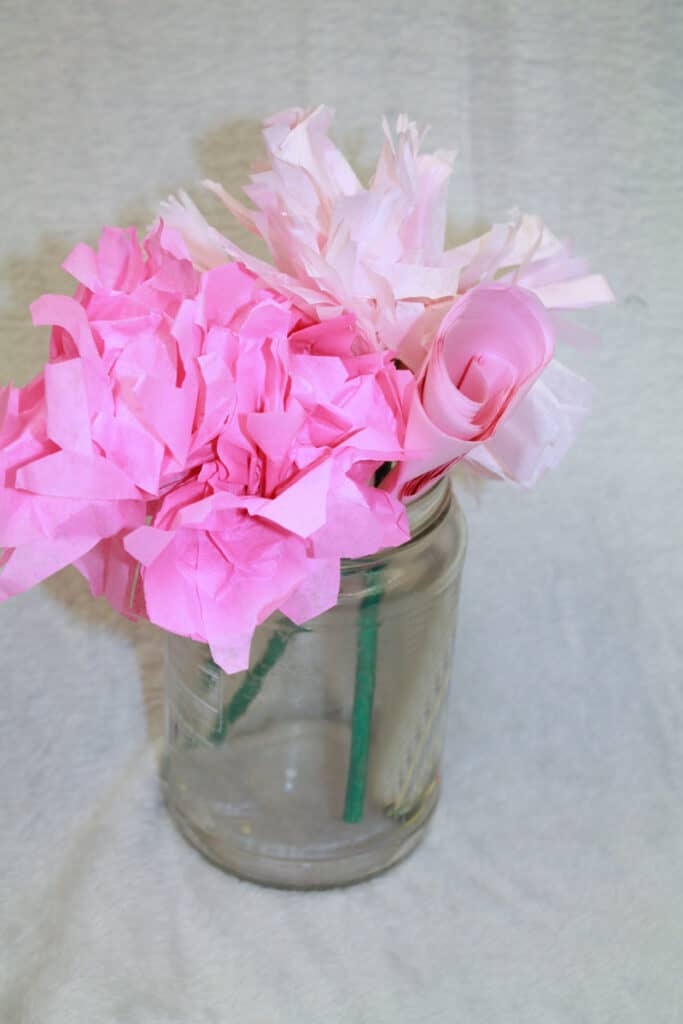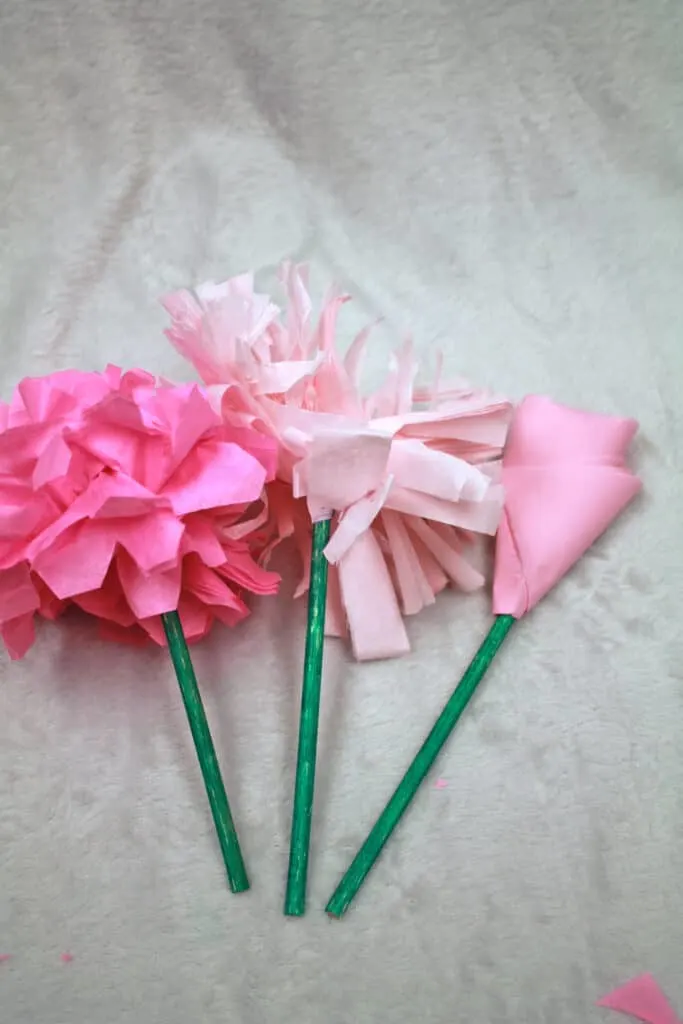 Other Paper Flower How To:
Pin for Later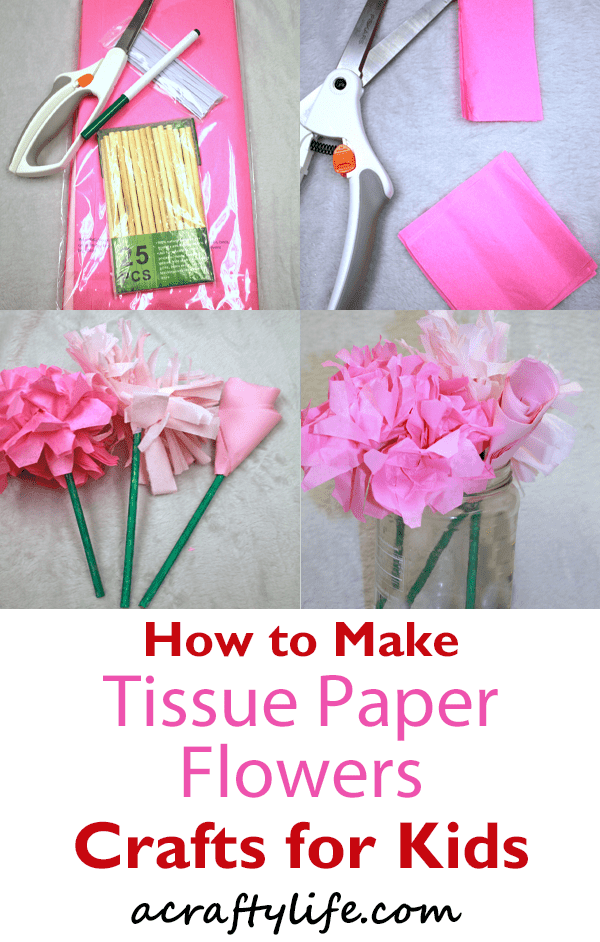 Other Valentine's Day Crafts for Kids
More Spring Crafts for Kids