Winter is the perfect time to break out your knitting needles and create something cozy. From beginner-friendly cardigans to sumptuous shawls, here are 15 sweater knit patterns for chilly days ahead!
Whether you're after a simple ribbed stitch pattern or something more intricate, put your creativity to work with these stunning patterns.
With classic silhouettes such as crew necks, cardigans, and v-necks, you'll find something special to make every winter.
Along with traditional wool yarns like alpaca and merino, explore chunky bouclé looping yarns in eye-catching colors for added texture and depth.
Whatever style you choose, get inspired by these sweater knit patterns for a warm and wonderful season!
Thinking about taking up a hobby and wonder whether you should try knitting or crochet? Is knitting or crochet easier? I think crochet is but both are fairly easy to learn.
There is lots of different videos and beginner patterns in both knitting and crochet.
A great beginner project for either crochet or knitting is a dishcloth or headband. Try using the most basic stitches you learn and make one.
Other Knitting Patterns
There are knitting patterns for worsted weight gauge 4 yarn as well as bulky yarn. A wide variety of patterns are available.
New to Knitting? Try these Tips
There are affiliate links in this post. I will receive a small commission if you purchase through these links at no additional cost to you.
Sweater Knit Patterns
This pattern is easy to follow and true to size. I'm currently knitting a jumper using the higher neck and the change in pattern is easy to follow and succinct. I would recommend to anyone looking for a staple jumper pattern that suits soft worsted weight yarns.
She always has such gorgeous sweater patterns! I've purchased a few from her in the past and they've all been wonderful, and this one is no different. I high recommend it, especially if you're a beginner knitter!
This would be a good knit pattern for a beginner to try.
I love this sweater so much! The pattern was super easy to follow and easy to adjust where/when I wanted. I've made two pieces from this pattern already- the first on a smaller needle size.
The second I used the recommended needle size and created a vest (I just added a 1×1 rib on the bottom and decreased needle sizes for the rib) and it came out so cute! Love love love how versatile this pattern is. Planning to make many more pieces from this!!!
Amazing pattern. I made a cropped version and completely in love with it. I get compliments every time I wear it out.
This designer has other knit and crochet sweater patterns for you to try.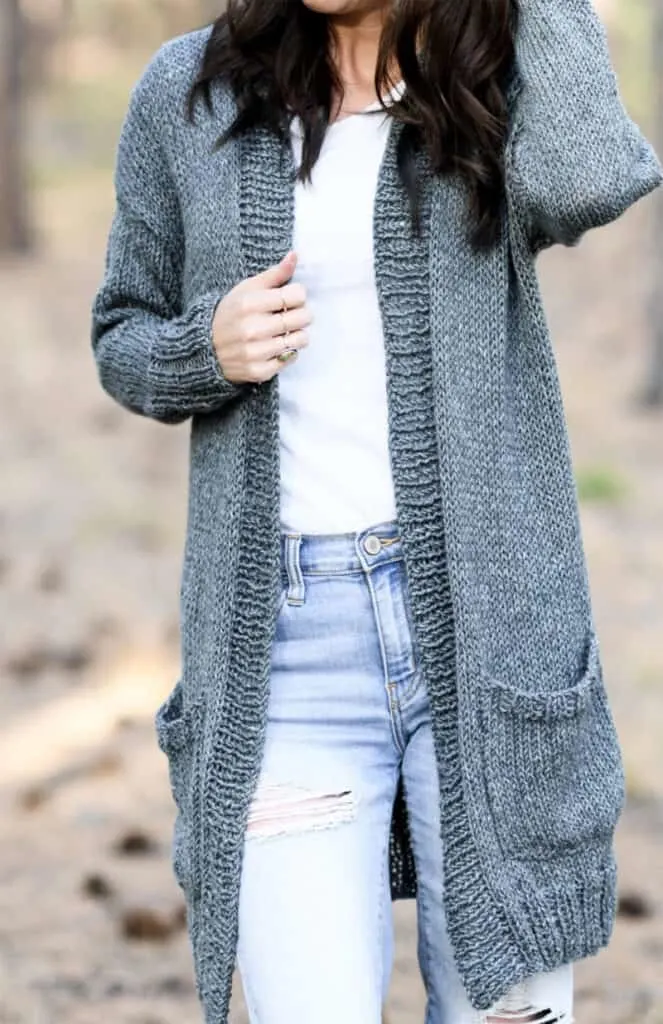 Learn how to knit a cardigan with this free sweater knitting pattern.
This designer has other free sweater patterns for you to try.
I'm part way through knitting the Dartmoor sweater, and like my first project from this site (the Good Grampa Cardigan) it's turning out beautifully.
Both patterns are easy to follow and the videos are most helpful. I'm not an experienced knitter and am enjoying the challenge of learning new techniques. Thanks Sabina for your great patterns and many happy hours of knitting!
Great Pattern! Looks very easy to follow. So simple looking, which I like. And love the color. Going to make mine the same color. Thank you for having this in your shop.
Easy pattern to follow! This was my first circular needle project and it came out great. I was a little confused on a few parts so I messaged the seller. She was very pleasant to work with and helped me through the tough parts of the pattern.
This was my first time knitting anything in the round and only my second sweater. It was very easy to follow the pattern and it came out beautifully! I have just ordered some bamboo/cotton yarn to make another one in a different colour and texture.
I had reconstructive ankle surgery yesterday and decided to take up knitting to help me pass the time on bedrest (expert crocheter, terrible knitter lol) this is my first project and I am so appreciative of how well written the pattern is! I'm still in the very, very beginning stages but I am in love!
Very detailed pattern with links to videos to assist. This is my first attempt at a top down jumper in the round and it has been made easy by this pattern.
Sweater Knit Patterns Free
Embrace the winter season and make something special with one of these 15 cozy sweater knit patterns. From classic silhouettes to vibrant textures, create something timeless that you can enjoy for many years to come!
Pin for Later
Other Knitting Patterns
Sweater Crochet Patterns