Love crocheting? Make one of these pretty crochet blanket patterns for wrapping up on the couch or a cozy gift. With different colors of yarn, these patterns would fit anyone's style.
Looking for colorful stripes or a modern throw blanket crochet pattern design, there are lots of different crochet blanket patterns to try with lots of texture.
Crochet blanket patterns can be a fun and easy way to add some new life to your home décor. There are all sorts of different patterns to choose from, and you can make them as colorful or as subtle as you want. Plus, they make great gifts for friends and family members!
If you're new to crochet, or if you're looking for some easy patterns to get started with, check out these five beginner-friendly crochet blanket patterns. Some of them are made with basic stitches and they're all super simple to follow.
There are all sorts of different crochet blanket patterns to choose from, and you can make them as colorful or as subtle as you want. Plus, they make great gifts for friends and family members!
You can make cozy crochet afghan throw designs with that look like fur or a rainbow crochet afghan. You can make endless variations of the crochet afghan patterns.
There are crochet throw blanket patterns designs for worsted weight gauge 4 yarn as well as bulky yarn. There is a great variety of patterns available.
Looking for some crochet baby blanket patterns to try? Try these cute baby crochet blanket patterns.
There are lots of different afghan crochet patterns to choose from. There are easy crochet throw blanket patterns and some more advanced.
Read the reviews and get ready to start your next throw blanket crochet project.
Need Some Tips on Crocheting Blankets?
Check out these links.
Here are a few free design throw blanket patterns to try ombre throw crochet blanket pattern, textured velvet crochet blanket pattern, chunky gray stripe, and a velvet ripple throw. There afghan crochet patterns that are free at the bottom of the post.
There are affiliate links in this post. I will receive a small commission if you purchase through these links at no additional cost to you.
Modern Crochet Blanket Patterns
Make a colorful version of the traditional granny stripe crochet blanket pattern. Try this easy blanket pattern for crochet.
Make this soft and cozy throw blanket pattern for crochet using furry yarn.
Make a textured crocheted blanket with super bulky yarn. Try this warm blanket pattern for crochet.
OMG! This pdf is one of the best one I ever found, it gives you so many options besides the one design of the picture! 1 thing I would add: I would add the drawing of the pattern, I'm sure it's not as easy to find the way to create them in graphic, but I'm more on a visual design kinda person, and reading through the description is kinda hard for me, but I'm sure that most of the people out there are fine with how it is, however it's a GREAT product !! 🙂
Amazing!! I'm a brand new crocheter and am succeeding easily on this blanket!! The video with how to do the bobbles is easy to follow and after a few repetitions I was good. I ended up using big twist living yarn from Joann's because I thought it was softer. Also you could use a bigger needle to get looser bobbles. I'm loving this project though!!!
pattern is so satisfying and enjoyable to create. once you get the repeat down you can finish without the pattern for the most part. love love love this pattern!!!
It's been a couple years since I've done a crochet project with a pattern, but it was super easy to get right back into it with this pattern. I love how it is turning out so far and can't wait to finish!
It's also very nice that the pattern includes instructions for multiple sizes, so you can make anything from a baby blanket to a king size or make a custom size of your own.
Beautiful pattern! I love this shop so much! The seller is a very talented designer!
Very easy to download and follow pattern. I can't wait to get my yarn and make this beautiful Blanket. I Highly recommend!
A free printable modern chunky blanket pattern with great texture made using Bernat Blanket Yarn. This super bulky yarn is soft and works up fast. There are several crochet patterns for blankets available on this blog.
Make an modern ombre blanket with Red Heart Ombre Yarn for a modern feel. This free crocheted blanket has an easy repeat.
There are lots of crochet blanket patterns available for free on this blog.
Try the super soft Bernat Velvet Yarn in this traditional ripple pattern.
Use Bernat Blanket Yarn to make this colorful fall leaves inspired blanket. It is soft and chunky. It uses the box stitch to make this delightful blanket. This free chunky throw blanket is available in a printable PDF.
There are a bunch of Bernat Blanket Yarn crochet blanket patterns for free on this blog.
Try the soft velvet yarn and make this cool textured stripe blanket. This free crochet blanket pattern is available in a free PDF.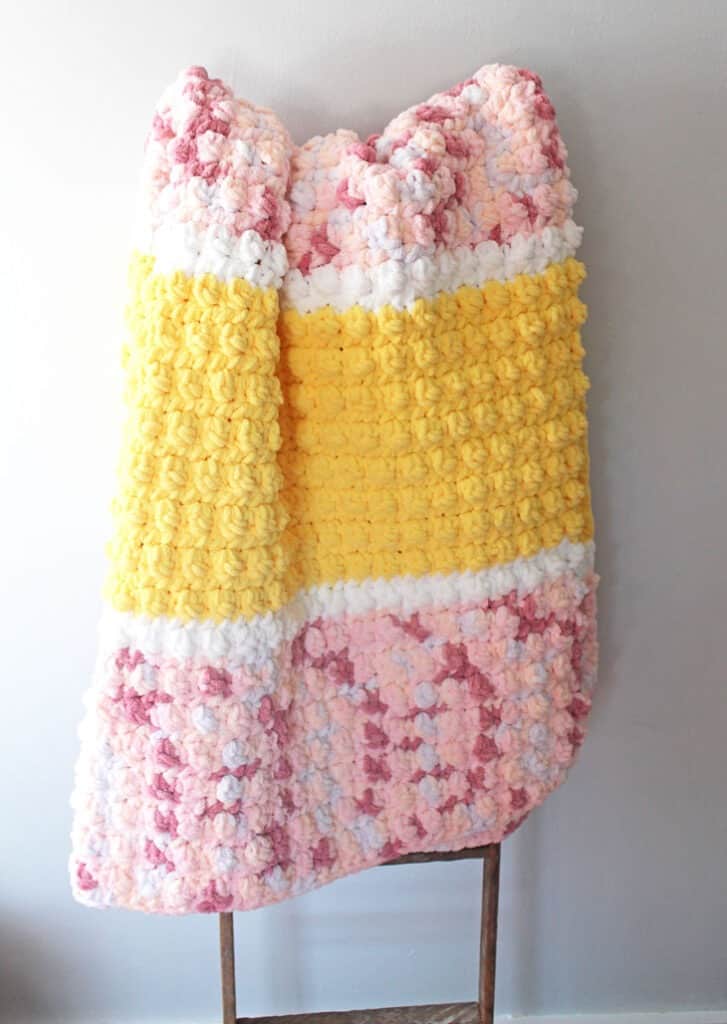 This free crocheted throw or crib size blanket is made with Bernat Baby Blanket Yarn colors in Raspberry Kisses, White, and Buttercup. These colors are my daughter's favorite colors.
This free crochet blanket pattern is an easy repeat that works up quickly. This pattern uses 6 skeins of yarn.
Try this easy lap blanket crochet pattern. The pattern has 3 stitches: double crochet, double crochet 2 together, and the chain stitch.
This pretty ombre yarn comes in a cake, so there are few ends to weave it. The super bulky yarn is very soft and easy to work with.
As you can see, there are many different crochet blanket patterns to choose from. We hope that this list has helped you find the perfect pattern for your next project. Be sure to share pictures of your finished blankets with us on Instagram by using the hashtag #amorecraftylife. We can't wait to see them!
Pin for Later
More Free Crochet Blanket Patterns
More Crochet Blanket Patterns