Step into a realm of creativity and craftsmanship. Here, the dance of yarn and hook crafts both beauty and function. In "100s of Free Crochet Ideas – Crocheting Patterns," we welcome you to discover the enchanting world of crocheting.
Whether you're an experienced crochet enthusiast or a curious beginner, this treasure trove of free crochet patterns promises to inspire and ignite your passion for this timeless art form.
Within these virtual pages, you'll uncover an array of captivating projects that span the spectrum of crocheting possibilities.
From cozy blankets that wrap you in warmth to intricate dishcloths that add a touch of elegance to your kitchen, from charming bags that carry both style and utility.
To adorable stuffed animals that become cherished companions, and from fashion-forward sweaters that showcase your personal flair to a lot of other innovative designs. This compilation celebrates the versatility of crochet.
Every pattern in this collection comes with detailed instructions, making it easy for you to embark on your crocheting journey, one stitch at a time.
Whether you're seeking to unwind after a long day, looking for a creative outlet, or aiming to gift a piece of your heart to loved ones, the art of crochet offers you the means to bring your vision to life.
Gather your yarn, your hook, and let your imagination weave through the stitches. As you browse through the patterns, may you enjoy the process and satisfaction of your work. Happy crocheting!
Things you Can Crochet
Blankets – Throws and Baby Blankets
Stuffed Animals
Clothes – sweaters, tops
Baby Clothes
Winter Wear – Hats, Ear Warmers & Scarves
Pillows
Bags
Baby Toys
100s of Free Crochet Ideas – Crocheting Patterns
Crochet Bags and Totes – Free Crochet Ideas
Make a colorful striped free market tote crochet pattern.
Make a gingham bag with this free crochet pattern.
Make this easy bag using the shell stitch.
45 Free Crochet Market Tote Patterns
There are lots of different free tote and market bag crochet pattern ideas for you to try.
Free Crochet Basket Patterns & Ideas
Make this stylish basket using the waistcoat stitch that makes it look like knit. There are leather handles for a unique look.
Make this rustic farmhouse style basket using the waistcoat stitch. This pattern uses rope for the handles.
Make a colorful textured basket with this free pattern. This basket pattern would look great in your favorite color.
Crochet Throw Blanket Patterns – Free Crochet Ideas
Looking for a soft pretty ripple throw afghan? A throw that is soft and squishy but not too hard to make?
This free velvet leaf ripple chunky crochet blanket pattern will be a great project to try. It only has two stitches, half double and half double crochet together.
Looking for a pretty textured throw? A throw that is soft and squishy but not too hard to make? This free textured velvet blanket will be a great project to try. It only has three stitches, half double, front post double and back post double.
I was looking for my next crochet project and wanted to make a blanket with Bernat Velvet Yarn. I love the softest of the yarn it is even softer than Bernat Blanket Yarn.
Looking for a soft chunky throw crochet blanket? A gift that is soft and practical but not too hard to make? This easy free gray stripe Bernat Blanket yarn chunky throw blanket crochet pattern will be a great project to try.
It only has 3 stitches, single, double and the even berry, which makes the textured square. This chunky crochet throw blanket pattern works up fast too using super bulky yarn.
Make a modern crochet throw blanket pattern with this free printable PDF. This pretty ombre afghan is made with an easy repeat.
This colorful striped super bulky throw is made using the box stitch. The box stitch is an easy stitch using double crochet and chain stitches. This is an easy Bernat Blanket Yarn pattern.
Throw blankets are great projects when your are looking for free crochet ideas. This easy free crocheting pattern is available in a free PDF.
More Free Throw Blanket Patterns
Crocheting Baby Blanket Patterns – Free Crochet Ideas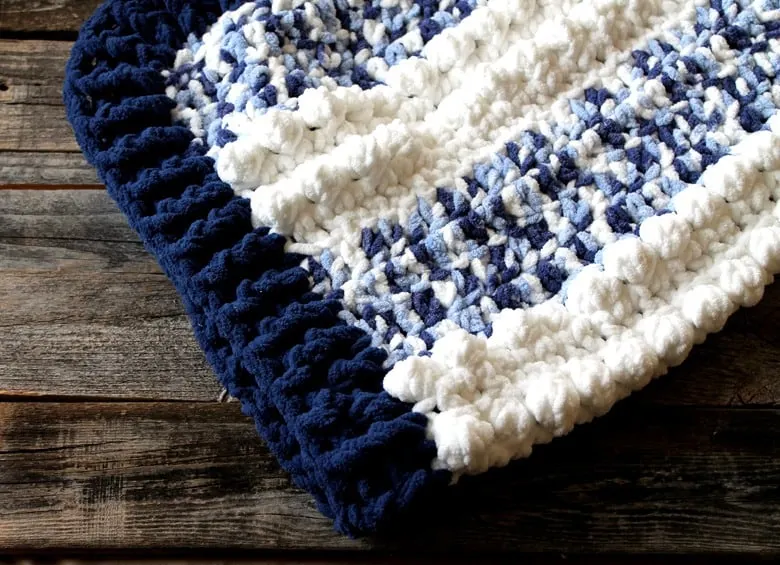 A classic white and blue color combo, made with super soft Bernat Blanket Yarn. This is a great chunky yarn baby blanket pattern.
A bulky yarn blanket using ocean. This blanket is a combo of single and double crochet stitches in the front and back post, using a simple repeat.
A soft clouds pink and white chunky crochet blanket pattern. This blanket using a repeat of triples to make fluffy clouds.
Try this free baby blanket crochet idea. This pattern is available in a free PDF.
More Baby Blanket Crochet Patterns – Crochet Ideas
Christmas Crochet Patterns – Free Ideas
Cute mini little trees with a touch of sparkle, you could make a garland or use as ornaments.
Make your own pretty crocheted snowflakes with this pattern. You could use them as ornaments or applique for a larger project like a blanket.
There are gingerbread, snowman, elf, and Santa apron patterns too.
25 Fun Free Crochet Christmas Patterns to Try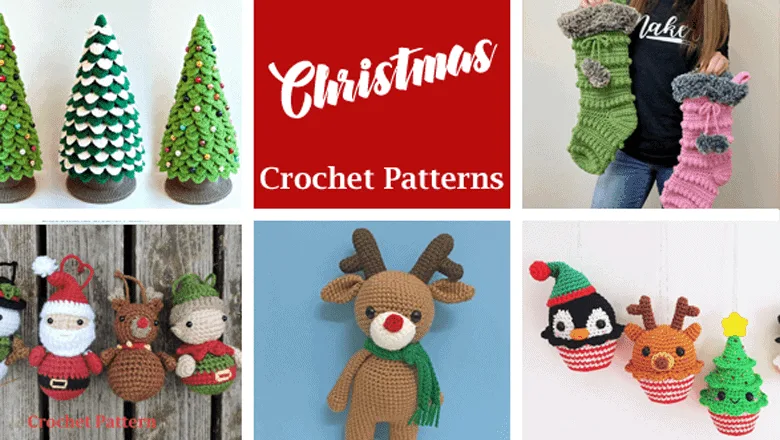 Free Halloween Crochet Patterns & Ideas
This site has several different Halloween crochet patterns for you to try for free.
Make your own mini pumpkin basket with this free crochet pumpkin pattern for Halloween.
Make your own cute Halloween ghost amigurumi pattern.
57 Fun Free Crochet Patterns for Halloween
More Free Crochet Patterns – Fun Ideas
The world of crochet is a vast and creative one, teeming with endless possibilities. In this collection of 100s of free crochet ideas and patterns, we've explored just a fraction of what this craft has to offer.
From cozy blankets to stylish fashion accessories, from adorable amigurumi to scarves, crochet allows us to turn strands of yarn into works of art.
Whether you're a seasoned crocheter or just starting out, these patterns have hopefully inspired you to pick up your crochet hook and embark on new projects.
Crochet not only offers a means of creating beautiful, functional items but also serves as a therapeutic and rewarding hobby that can bring joy to both the maker and the recipient.
So, whether you're crocheting for relaxation, self-expression, or the sheer joy of creating something with your own two hands, may this collection of crochet ideas serve as a wellspring of inspiration on your crafting journey. Happy crocheting!
Pin for Later