I love to paint. I like to try all kinds of different medias. My little girl loves to paint too, so painting process art is perfect. You can just get out the supplies and get started. Most need little prep work.
Painting process can be used in with other different letter themes or seasonal themes. Pair with a book for learning and creative fun.
As much as my little one loves painting, it is usually messy. If you have the same problem, try this bib. It is great for keeping your baby clean while eating and great for your little artist. It worked great when she was a baby and still does when she is almost 4 years old.
There are affiliate links in this post. I will receive a commission if you purchase through these links.
Painting Process Art – Fun Activities for Kids
Try this fun and colorful painting process art. Make sue to cover your surface and the children's clothes.
Gather some pine cones and have fun rolling them around.
The kids will enjoy process bubble painting.
Use tissue paper and water to make different colorful shapes. There is a special type of bleeding tissue paper.
This process art uses watercolor or food coloring and a paper towel.
Look in your pantry for some pasta for this fun painting project.
Try watercolors and a straw to create this process painting technique.
Balloons and paint are all you need for this painting process art. Keep the mess contained by painting outdoors.
Have fun using bubbles to paint with this fun process art.
Have fun painting with a squeegee in this swipe painting.
Try painting with spaghetti in this fun process art.
Pin for Later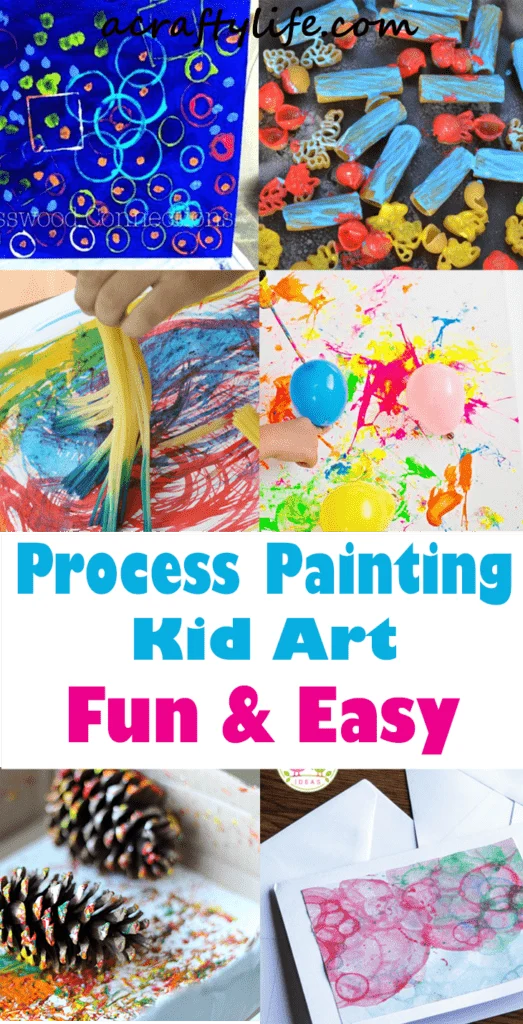 More Fun Crafts for Kids
More Fun Crafts for Kids