Love crocheting? Make one of these cute crochet bunny patterns for a great Easter gift or a cute baby present, for a boy or girl.
There are lots of different rabbit crochet patterns to choose from. Read the reviews and get ready to start your next amigurumi bunny toy crochet project.
Need some tips on amigurumi? Check out these links.
There are affiliate links in this post. I will receive a small commission if you purchase through these links at no additional cost to you.
Crochet Bunny Patterns
5 out of 5– Such a wonderful pattern, very clear and easy to follow. I love the design of the bunny! Crochet Rabbit Pattern
Make your won cute crochet animal with crocheted clothes.
5 out of 5 – Cute, I wish it had a little more instructions for newbies but overall a nice pattern. Thank you Crocheted Bunny Pattern
Make your own plushie crocheted rabbit with a soft yarn.
Follow A More Crafty Life
5 out of 5 – Absolutely gorgeous , precious in love with the pattern Crochet Bunny Pattern
Make a soft cute crocheted stuffed bunny. This would make a great present for a child or baby. If you ware making a present for anyone under 3 you want to use sewn on eyes for safety.
5 out of 5 – Very easy step by step directions. Added a little extra to the skirt. Making a second one for my other grand daughter. Crochet Ballerina Rabbit Pattern
5 out of 5 – Very adorable pattern that is easy to follow with lots of pictures Crochet Bunny Pattern
This cute crocheted rabbit has fabric for the inside of the ears for a change.
5 out of 5 – Delightful pattern. Love the crochet stitch. My Grandbaby will love this. Crocheting Bunny Pattern.
5 out of 5 –Super cute! I'm making one for an animal charity fundraiser. Crochet Rabbit Pattern
5 out of 5 – Gorgeous well written, easy to follow, lots of pictures, beautiful design Crochet Pattern
Make this cute rabbit that looks like Peter Rabbit with the blue coat.
5 out of 5 – Very easy to follow pattern, delightful for little ones. Crochet Pattern
This crochet designer has lots of adorable crocheted plushie animal patterns for you to try.
I fell in love with this pattern and decided to make it pretty spontanously. It was so much fun, and I actually don't think I'm finished with this project yet.
I'm still really making clothes and accessories for these little guys (you'll notice I made clothes different from the pattern and also some little pacifiers with wire stems so they can actually take them).
The pattern itself was easy to follow, mostly because there were clear instructions and SO MANY PICTURES. Seriously, the amount of pictures used in this pattern is amazing.
I had absolutely no problem because every time I wasn't sure there was a picture of the exact step I was struggling with as well as the step before and after. T
his was such a huge help, made the process of learning this pattern so much quicker and easier. Amazing pattern, very cute result, thank you!
I love this guide!! Baby Cake is so incredibly cute, the instructions are super understandable and perfectly understandable through the pictures. I'm a fan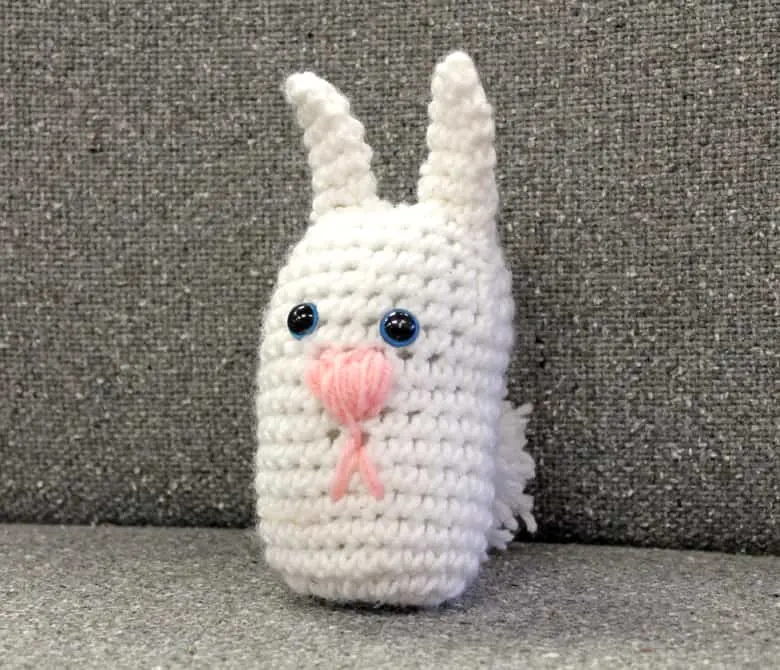 Make this cute simple bunny crochet pattern. It would be a great addition to an Easter Basket. You just need a two colors of yarn and some eyes.
More Free Crochet Bunny Patterns
Follow A More Crafty Life
Pin for Later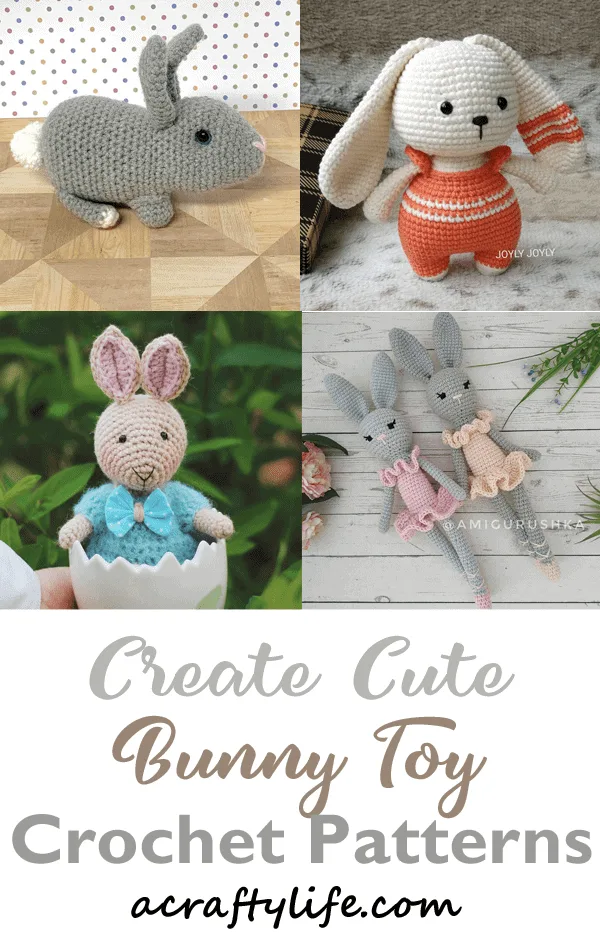 More Crochet