Love crocheting? Make one of these cute crochet cow patterns for a great little gift or a cute baby present, for a boy or girl.
 There are lots of different crochet cow toy patterns to choose from. There are cow blankets, toys, and baby rattles.
Read the reviews and get ready to start your next cow crochet project.
Looking for other cute crochet animal patterns to try? Try some of these cute patterns: crochet fox patterns, crochet cat patterns, or crochet dog patterns.
Need some tips on amigurumi? Check out these links.
There are affiliate links in this post. I will receive a small commission if you purchase through these links at no additional cost to you.
Cow Crochet Patterns
5 out of 5 – very detailed pattern love it
Make a cute cow blanket crochet pattern. This would make an adorable baby gift for a farm theme.
There is a whole farm worth of different animals and farmers to make in this pattern.
5 out of 5 – thanks, easy to download. Easy transaction
5 out of – Such a beautiful shop. Patterns are so well written and the customer service a sooo good.
Thank you so much for putting so much effort into your shop, it is a wonderful experience to purchase your patterns.
This cute crochet cow pattern would be a great pattern for beginners.
5 out of 5 –Awesome pattern easy to follow and great result.
5 out of 5 – Another cute pattern, easy to follow
This designer has lots of cute crochet animals to try.
5 out of 5 – As always Carolina has the best and cutest patterns! One of my absolute favorite designers. Pattern worked up quick, and was super easy to follow!
Try this cute pattern and crochet a cow today. This designer has lots of adorable animal crochet patterns to try.
5 out of 5 – Easy to follow and good results
Make a cute highland cow stuffed toy with this crocheted pattern.
5 out of 5 – The pattern was very easy to follow, clear, and included plenty of step-by-step pictures.
This designer has a lot of different animal crochet patterns for you to try.
5 out of 5 – So cute. So simple. Love this pattern.
This designer has a ton of adorable stuffed animal crochet patterns. There are a wide variety of animal amigurumi patterns to make.
5 out of 5 – This pattern turned out so cute!
There are many cute animal crochet patterns available from this designer besides this cute stuffed cow toy crochet pattern.
5 out of 5 – So adorable! One of my favorite patterns I've ever purchased and made. 🙂
5 out of 5 – Very nice cows. I like it 🙂
Aren't this standing cows cute? You can make moms and babies.
5 out of 5 – Very easy pattern to follow and look just as pictures when complete
This designer has other cute animal rattle crochet patterns too.
5 out of 5 stars – Super cute pattern! Very easy to follow! My Mom is going to love this! Thank you!
Try make a cute ragdoll style cow with this cute pattern.
5 out of 5 – Loveee! Click to order.
Really amazing and easy to follow guide!
This designer has lots of adorable animal crochet patterns to try.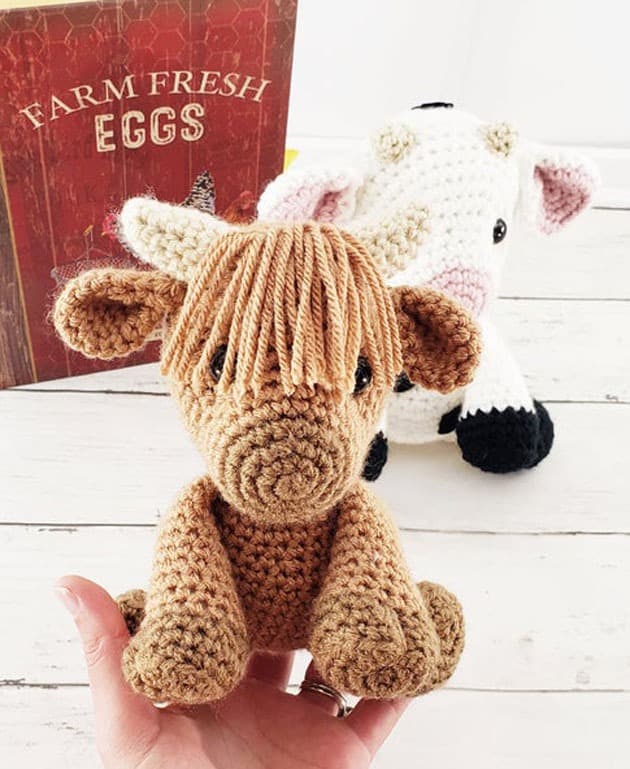 Lovely pattern. Easy to follow. I added crocheted spots because I had no felt. Came out lovely and was very quick to complete
Love this cow pattern! Amigurumi's are not my thing but I needed on for a baby gift. Very good, easy to follow instructions! Haven't put the spots on yet, other than that she's ready to go.
This designer has lots of other adorable animal crochet patterns to try, as well as, a larger crochet cow pattern. In this pattern you get two versions, the highland cow and a black and white cow.
Very nice pattern that was easy to follow! Loved it!
Easy to follow pattern!! Super cute
So adorable and will be so soft with the velvet yarn and eyelashes! Can't wait to make this!
Pin For Later
More Crochet Animal Patterns