What do you do when you want plan on making a torn paper pumpkin kids craft, but you don't have any orange paper? You paint! There was a big stack of construction paper but for some reason it doesn't come with orange paper.
I had some washable watercolor I haven't tried yet so I decided to use them to color some white paper orange for the pumpkin.
I found that the color the watercolors looked different in the case showed up on the paper the same.
This easy paper plate pumpkin craft would be great for toddlers and preschoolers.
It is a good fine motor exercise, tearing paper and gluing the small pieces on the plate.
Pair this paper plate pumpkin patch kid craft with a book for some reading and creating fun. Try Too Many Pumpkins.
Looking for more fall fun craft ideas? Try this apple tree craft or sponge painted tree. There are also more than 50 fun fall craft to try.
This post contains affiliate links. I receive payment if you purchase items through these links.
How to Make a Torn Paper Pumpkin Craft – Easy Paper Plate Pumpkin Craft for Kids
Pumpkin Craft Supplies
Paper
glue or glue stick
paper plate
scissors
small cup of water
paper towel
step 1.
Paper most of the paper orange using the watercolors. You will get the most color if you just add a few drops of water to each of the watercolors.
Add more water as needed but not a lot or your colors will be very light.
Save a strip of the paper for the green of the stem. Make sure you clean your brush in the water and with the paper towel between colors.
step 2.
Tear the paper into piece. If tearing is still hard for your little one, tear the paper into strips and then let them tear it into pieces. It is also easier if the paper is still wet.
My pieces were about 1/2 in and smaller. Bigger pieces are easier to work with but are a little big for the stem part.
step 3.
Cut out a pumpkin shape and stem from the paper plate with the scissors. If you like, you can draw the shape first.
step 4
Glue the orange pieces on the pumpkin part. Glue the green pieces on the stem. You can use either liquid glue or stick. I found the glue stick worked the best.
Work on a small section at a time glue, then add paper pieces. I worked until the entire pumpkin was covered. Finished. I hope you enjoyed this torn paper pumpkin craft.
The pumpkins would look great as a pumpkin patch display.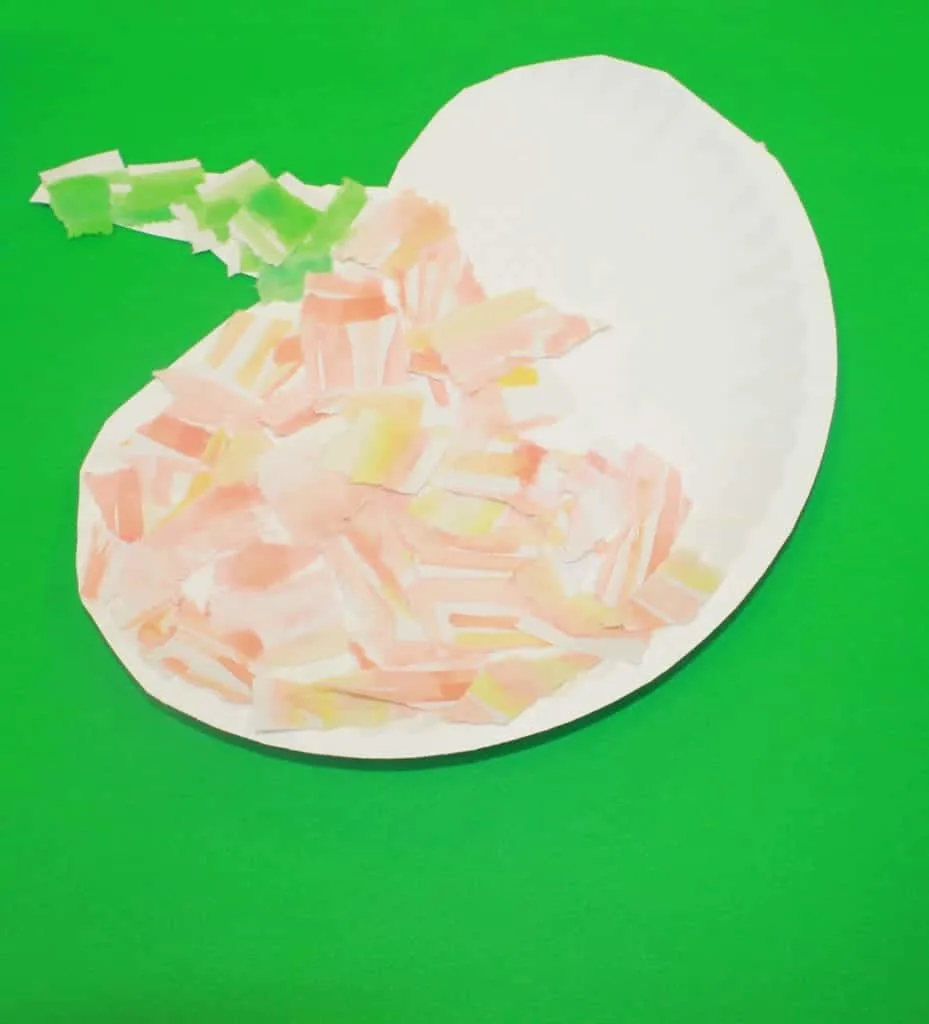 Pin For Later
MORE FALL CRAFTS
MORE KID CRAFTS, FUN & BRIGHT FOR ALL AGES