Looking for some great Christmas ornaments for kids to make? I made a fun DIY wood reindeer ornament, tin foil Christmas ornaments, and fun fingerprint Christmas tree.
Next, I am going to make some more fun and easy DIY handmade Christmas ornament kid crafts using every day supplies. These unique ornaments make great gift for parents and grandparents.
I gathered a lot of different homemade Christmas ornament kid crafts to keep the kids entertained all month long. Create some fun keepsake DIY ornaments for kids for your tree this holiday season.
Making fun ornaments at Christmas can be so much fun for kids and their family members. There are 50 easy homemade ideas that even older kids can enjoy.
You can use cookie cutters to shape colorful clay into cute shapes, or decorate wood slices with paint and glitter, for unique ornaments. Pipe cleaners can be twisted into all sorts of cool designs. Clear plastic or glass ornaments can be filled with tiny treasures, painted, or items can be glued on.
These homemade ornaments are not only a perfect gift, but they also bring joy to the whole family as everyone gets creative together.
There are all different kinds of homemade ornaments to make either for gifts or keepsakes for this holiday sean.
Pair some of these fun DIY homemade kid easy ornament crafts with some Christmas books, for reading practice and arts and crafts together.
These DIY Christmas ornaments would be great crafts for preschoolers. There are a bunch of easy homemade ornaments to make.
Homemade Christmas ornaments are a great way to entertain the kids and made inexpensive Christmas decorations.
There are affiliate links in this post. I will receive a small commission if you purchase through these links at no additional cost to you.
Easy Christmas Ornaments for Kids to Make
Make a fun and cute snowman DIY Christmas ornament for kids with a tea light. This could be a fun easy winter activity too.
Make a ornament using a lid and a few supplies. This fun and easy homemade ornament craft would be great for preschoolers and kindergartens.
Gather some pine cones and little pom poms to make this colorful handmade Christmas ornament. These little pompoms would be great way to practice fine motor skills.
Make a pretty Christmas ornament for kids using salt dough and sea glass. Have fun making your own special homemade ornament for Christmas.
This DIY ornament would be a great way to practice fine motors skills.
Turn glitter and clothespins into a cute homemade ornament for Christmas.
Use your fingerprints to make a colorful salt dough ornament. Make your own fun homemade ornament for Christmas.
Make a cute DIY homemade snowman Christmas ornament. This would be a cute and easy project for kids.
You will need clear plastic ornaments and a few other supplies to make these easy snowmen. If all of the items are stickers this would be good for younger kids to do.
Make your own fun ornament for Christmas using pompoms and clear plastic bauble ornaments.
Make fun button wreath ornament.
Make a cute homemade Rudolph ornament with a wood disk, clothespins, and a little paint.
Make a personalized homemade Christmas ornament with a photo and pasta. This holiday wreath craft would be a great way to practice fine motor skills.
Make a cute gingerbread ornament with colorful items.
What child doesn't love glitter. This homemade salt dough ornament would be a great keepsake.
Who doesn't love a fingerprint craft. Make a cute Rudolph ornament.
Using colorful beads and a jingle bell to make this star Christmas ornament craft for kids.
This fun craft would be a great way for preschoolers to practice their fine motor skills.
Make easy and colorful Christmas tree ornaments with this fun crafts for kids. This easy Christmas tree is made from craft sticks or recycled popsicle sticks, and other colorful items like pompoms and tinsel.
You can find more fun crafts using popsicle sticks in this post: 21 Fun Christmas Crafts with Popsicle Sticks.
Create some colorful and sparkly snowflake Christmas ornament for kids using wood craft sticks or recycled popsicle sticks.
Make a trio of Christmas ornaments for kids using wood craft sticks. Craft sticks are great for ornament because they are inexpensive and easy to find or you can recycle popsicle sticks. Try this easy craft this holiday season.
Use a light bulb with a pipe cleaner for a cute and fun Rudolph Christmas ornament.
Make a cute gingerbread Christmas ornament with a few details, wood craft sticks, and paint.
Make this fun and easy gingerbread man ornament craft.
Make a great homemade keepsake Christmas tree ornament for kids using air dry clay or salt dough. This would be a great DIY ornament for this holiday seaon.
Make a fun colorful Christmas ornament for kids out of small paper plates and paint sticks.
Make a beautiful DIY snowflake Christmas ornament with clothespins.
Make a fun photo snow globe Christmas ornament, a great keepsake.
Use tinfoil and markers to make these easy colorful ornaments. They have a fun shine to them.
Turn a small paper plate into a fun Santa ornament with a few supplies. These crafts has simple instructions are are easy and quick to make.
Make this cute and easy gingerbread ornament with markers, yarn, and a paper plate. You could make a more permanent version using wood circle blanks and painting it.
Make your own cute penguin paper plate ornament with this easy craft.
Turn a some paper into a snowman ornament. This ornament has simple instructions that are easy to follow and quick to make.
Color this free poinsettia ornament template printable or use it as a template for colored paper or felt.
I made a post about more easy printable ornament template too.
There is a free printable star template you can use for a star ornament or any DIY star crafts.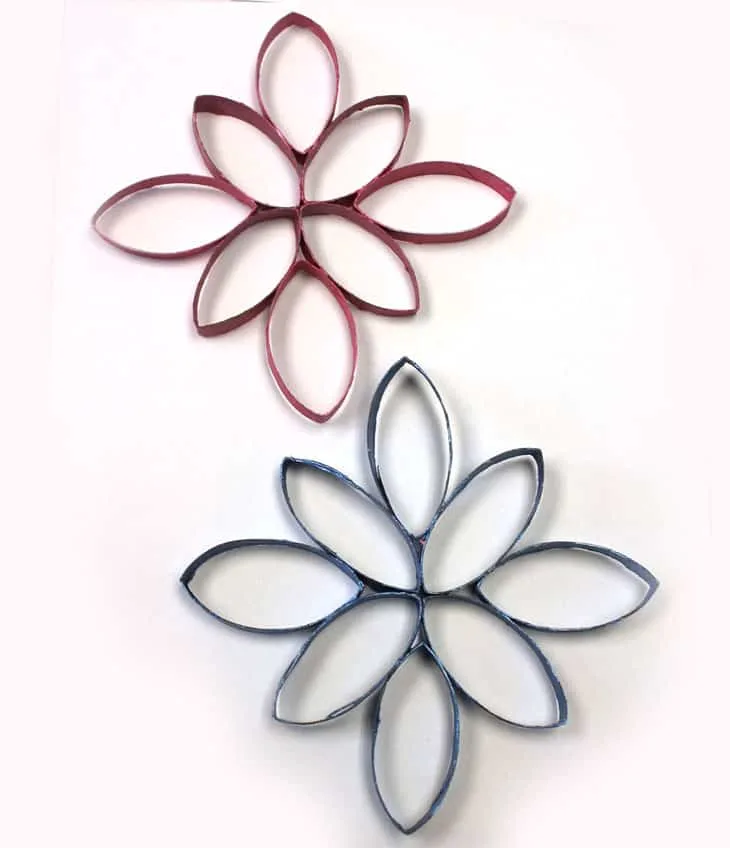 Turn toilet paper rolls into colorful snowflake ornaments.
Other Fun Christmas Crafts for Kids to Try
There lots of other fun and easy Christmas and winter crafts for the kids to try: Christmas Kid Crafts, Reindeer Kid Crafts or 17 Snowman Kid Crafts
Christmas is a time for family, friends, and fun. These homemade ornaments are the perfect way to get into the holiday spirit and involve your kids in some of the festivities.
From simple to more intricate designs, there's something here for everyone. So gather your supplies, put on some Christmas music, and get crafting!
Making your own handmade ornaments will make them unique to you. When you look at them during future holiday seasons you will remember the fun you had.
We can't wait to see the finished products. Have you made any of these ornaments with your kids? What was their favorite?
Pin for Later
Other Christmas Crafts for Kids
Winter Kid Crafts for Kids
More Crafts for Kids