Looking for some easy and fun Christmas ornaments for kids to make? I made a cute DIY wood reindeer ornament, tin foil Christmas ornaments, and fun fingerprint Christmas tree. Next, I am going to make some more cute DIY handmade Christmas ornament kid crafts using every day supplies.
I gathered a lot of different homemade Christmas ornament kid crafts to keep the kids entertained all month long. Create some keepsake ornaments for kids for your tree. There are all different kinds of homemade ornaments to make either for gifts or keepsakes.
Pair some of these DIY homemade kid easy ornament crafts with some Christmas books, for reading practice and arts and crafts together.
There are affiliate links in this post. I will receive a small commission if you purchase through these links at no additional cost to you.
Easy Christmas Ornaments for Kids to Make
Make a cute snowman DIY Christmas ornament for kids with a tea light.
Make a ornament using a lid and a few supplies. This homemade ornament craft would be great for preschoolers and kindergartens.
Gather some pine cones and little pom poms to make this colorful Christmas ornament.
Make a pretty Christmas ornament for kids using salt dough and sea glass. Have fun making your own special homemade ornament for Christmas.
Turn glitter and clothespins into a cute homemade ornament for Christmas.
Use your fingerprints to make a colorful salt dough ornament. Make your own fun homemade ornament for Christmas.
Make a cute DIY homemade snowman Christmas ornament. This would be a cute and easy project for kids.
Make your own fun ornament for Christmas using pompoms and plastic bauble ornaments.
Make fun button wreath ornament.
Make a cute homemade Rudolph ornament with a wood disk, clothespins, and a little paint.
Make a personalized homemade Christmas ornament with a photo and pasta.
Make a cute gingerbread ornament with colorful items.
What child doesn't love glitter. This homemade salt dough ornament would be a great keepsake.
Who doesn't love a fingerprint craft. Make a cute Rudolph ornament.
Using colorful beads and a jingle bell to make this star Christmas ornament.
Create some colorful and sparkly snowflake Christmas ornament for kdis using wood sticks.
Make a trio of Christmas ornaments for kids using wood sticks.
Use a light bulb with a pipe cleaner for a cute Rudolph Christmas ornament.
Make a cute gingerbread Christmas ornament with a few details, wood sticks, and paint.
Make a great homemade keepsake Christmas tree ornament for kids using air dry clay or salt dough.
Make a fun colorful Christmas ornament for kids out of small paper plates and paint sticks.
Make a beautiful DIY snowflake Christmas ornament with clothespins.
Make a fun photo snow globe Christmas ornament, a great keepsake.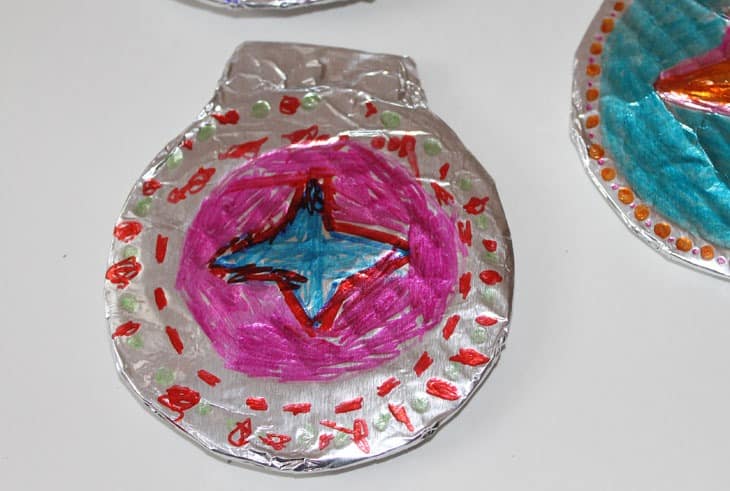 Christmas is a time for family, friends, and fun. These homemade ornaments are the perfect way to get into the holiday spirit and involve your kids in some of the festivities.
From simple to more intricate designs, there's something here for everyone. So gather your supplies, put on some Christmas music, and get crafting! We can't wait to see the finished products. Have you made any of these ornaments with your kids? What was their favorite?
Pin for Later
Other Christmas Crafts for Kids
Winter Kid Crafts for Kids
More Crafts for Kids